This article was originally published on Houzz on July 6, 2014, as "How to Recycle Your Kitchen," and is presented here with permission. Read the original article.
If you like getting your hands dirty, demolition can be one of the most fun and satisfying parts of a kitchen remodel. But whether you're going the DIY route or hiring a pro, you're likely to end up with at least one dumpster full of trash. The U.S. Environmental Protection Agency estimates that about 170 million tons of construction and demolition waste were generated in 2003 (the last year for which figures are available), with most of it ending up in landfills.
The sad part is that much of what ends up as waste could have been reused or recycled. While recycling building materials can take longer than simply whacking them with a sledgehammer, construction company SOD Builders says some things—such as large appliances and granite countertops—can be easily recycled with the right charity or facility.
Here you'll learn more about what you can recycle and who might want it.
Photo: Nancy Cartwright, original photo on Houzz.
Who to hire: Green demolition is mandatory in some cities, and contractors may not get their permit deposit back if they don't recycle a certain percentage of their construction and demolition waste.
Your general contractor (GC) may already be skilled in green demolition, or may hire a green demolition company that already has ties to local charities and can remove building materials and finishes according to their specifications. If your remodel is a DIY project, check with your municipality to find out whether any local recycling regulations apply.
Whether it's your city or your conscience that motivates you to recycle, you may decide to hire a green demolition company yourself to keep things easy and ensure that all recyclable materials are removed properly. If you do decide to go this route, choose a reputable firm for which no complaints have been registered with the Better Business Bureau, and get references.
If you're looking to recycle a handful of items—your appliances, countertops and cabinets, for example—you can likely handle the process yourself.
Photo: Sod Builders, Inc., original photo on Houzz.
Cost range: Because it takes more time to carefully remove building materials than to smash them with a sledgehammer, hiring a green demolition company can be more costly—up to $10,000 more per job than a regular demolition company, depending on scale and size. Fortunately, some of the extra cost can be offset by avoiding landfill charges and with tax credits earned by donating materials.
Many GCs, however, now recycle materials automatically. Oren Dagan of SOD Builders recycles many materials during a typical project. For an average kitchen, he says he usually incurs a cost of only $150 at the county recycling plant; he donates many materials for a tax write-off or reuses them in the same home.
Typical project length: About a week.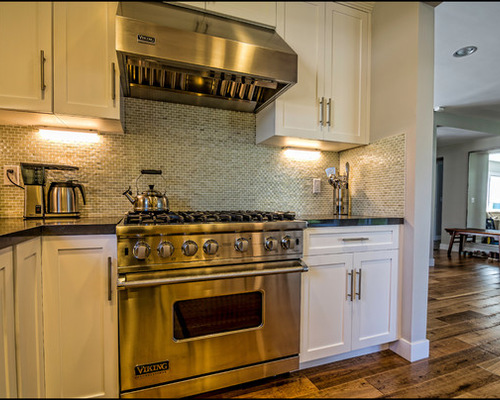 Photo: Sod Builders, Inc., original photo on Houzz.
Project considerations: If you're working with professionals, they're already equipped to deal with the proper removal of building materials, but if you're doing it yourself, it's smart to take an inventory of what you'd like to recycle and talk to local charities to determine what condition they need items to be in.
Some groups will accept only still-assembled cabinetry and countertops, while recycling plants will take scraps, remnants and small pieces. You might also consider doing a second sweep after you're finished the remodel to donate any large remnants or unused materials instead of throwing them away.
Here are are some materials you can likely recycle or donate:
Kitchen appliances of all sizes
Cabinetry
Granite countertops
Steel, copper and brass elements—and don't forget about plumbing
Lumber and plywood
Hardware
Fixtures (Including lighting, electrical and the sink)
Unused ceramic or vinyl tile
Drywall
New carpet and linoleum
Doors
Furnishings
Photo: Charmean Neithart Interiors, original photo on Houzz.
Getting started: Reach out to local charities about two weeks before you start the actual demo, to find out which items they'll accept and in what condition.
Dagan donates almost all large appliances to the Salvation Army, as it accepts nonworking appliances as long as they are fixable. "I've never had an appliance they couldn't fix," says Dagan. He offers smaller appliances to Goodwill, although he doesn't have any specific reason for splitting things up that way, other than a wish to share the wealth among multiple charities.
Habitat for Humanity also accepts a wide variety of kitchen items, from fixtures to appliances to cabinetry, although it relies on specific donation guidelines to ensure that the families who move into the homes it builds won't get stuck with substandard materials.
Dagan also likes to recycle kitchen cabinets within the same home, and points out that old cabinetry can create great, practical storage space for a garage or workshop. If you're getting rid of an old or damaged granite countertop, or end up with leftover pieces, Dagan says, fabricators are often happy to take them off your hands.
As for the rest, call your municipal recycling plant to find out what it accepts, whether there are fees and how those charges are calculated.
Related articles
I'll always be a California girl, and even though I've lived in Maryland for years now, the place that I call home has to appeal to the granola-eating, eco-conscious hippie in me. Fenwick Station, a LEED Gold, six-story multifamily residential building in downtown Silver Spring, definitely fits that bill.
Certified under LEED BD+C: New Construction, the Fenwick connects the Woodside neighborhood, Silver Spring Central Business District and public transportation hubs. Sustainable features are integrated into the property, creating a unique and inviting place to live. Silver Spring, like its neighbor Washington, D.C., is a hotbed of green buildings and infrastructure, including LEED- and Parksmart-certified buildings; Montgomery County alone has 190 LEED-certified projects.
In this area, you can find competitively priced green apartments within walking distance of shops, restaurants, entertainment and parks. After facing rent increases at my last building, I was pleasantly surprised to find out that I could pay less per month and live in a beautiful building in the same neighborhood. Score.
Photo and feature image credit Max Zhang Photography.
Look good, feel good
Making the decision to live at the Fenwick was easy because it looks good. Beyond the fine finishes of the interior décor, the building also features colorful murals, sculptures and art installations from local artists. The amenities spaces—club room, gym, courtyard and pool, roof terrace, library and meeting areas—all flow into one another, so it feels like it's one big communal space. The intention was to design artful, inviting and engaging social places, and to select materials—such as wood, steel, decorative concrete and resin graphic panels—that evoke a sense of authenticity and craftsmanship in the way they age.
Inside the units, big windows let in lots of daylight. Modern design and Energy Star stainless steel appliances set a clean tone for the living spaces, and eco-friendly carpet runs through the bedrooms. When I moved in, I felt an urgent need to declutter my life and donate or repurpose the literal baggage that I'd schlepped from apartment to apartment.
Go anywhere, anytime
The Fenwick is accessible by multiple walking and bike paths and is a five-minute walk to the Silver Spring Metro station, MARC train station and bus transit hub. I don't own a car, so it was important for me to access multiple modes of transportation from my doorstep. At USGBC, we emphasize transit-oriented design for green buildings—and as someone who grew up in the suburbs driving everywhere, I do feel it improves quality of life to have freedom to move, without being tethered to the cost of a car.
Track and manage consumption
Each residence is decked out with pretty, energy-efficient appliances, and water fixtures in the bathroom are minimal flush and flow (yes, the water pressure is slightly less, but that's a reasonable compromise.) This not only helps me conserve water, but also energy, which is individually metered by the local utility.
I manage the temperature of my apartment using the utility panel in my home, as well as online through the utility's website, which helps reduce cost. My average electric bill is about $60 cheaper than average for a comparable unit, and my biggest electric expense goes to heating water (can't live without those hot showers.) While I was always pretty conscious about conserving resources, having easy access to the information has motivated me to find more opportunities to scale back usage.
Grow amidst green
The landscaping around the building is also full of life. This project was one of the first in the area to implement the county's stringent stormwater management regulations on a tight urban site, driving creative solutions that integrate those needed facilities and ultimately gave the building its distinct, green look. Native greenery has been woven into the architecture, streetscape, amenity courtyard and roof terrace using the same materials and detailing as the rest of the building. The plant palette also supports native insect and bird habitat, and the green roof was designed for a variety of sun exposures and seed dispersal methods for continuous regeneration and climatic adaptation. I'll take this surrounding over a concrete jungle any day.
The bottom line: my building fits my life. I don't have to travel far on foot or bike to see friends, shop at the local farmer's market, see a concert at the Fillmore or hit up a 7-Eleven for a taquito. Like many who work in sustainability, I know that my ability to contribute doesn't end when I leave the office. I am fortunate to be able to choose where I live, and as more renters decide to put their dollars toward residential buildings like the Fenwick, sustainable housing will not just be preferred in the marketplace, it will become the norm.
Windows can be both a friend and an enemy to the energy efficiency of your home: They are an ideal resource for harnessing heat from the sun, while at the same time, a potential source of waste, leaking your heated or cooled air and increasing your energy bills. Indeed, your windows are responsible for as much as 20 percent of the energy loss in your home. With a few tips, you can harness your windows' power without the waste.
We can take few tips from passive solar homes, which are designed to work in harmony with nature by capturing thermal energy through the strategic use of glass and shade. But even without a solar house, you can learn to use the sun as your own personal heater—simply turn it off and on with the use of shades or blinds. Here are a few considerations for easy year-round energy maximization.
Keep out the cold
For insulating your windows in the winter months, one of the best options is cellular shades, which feature pockets that create layers between your snug living space and the chilly outdoors. Cellular shades come in varying levels of thickness: singe cell, double cell and triple cell. The higher the thickness, the better the insulation.
Roman shades with an insulated liner are also good options. According to the U.S. Department of Energy, Roman shades act as both insulation and barrier to the cold air. Adding drapes around shades creates an additional blockage between the cold air and your home.
Keep shades open during the day on windows that get full sun to welcome solar warmth, and close them when the sun sets to create a barrier against the colder temperatures. On windows that don't get a lot of sun, keep shades closed to protect your room from the cool air that may seep through the glass, and add drapes on top of that for even greater insulation. White and light-colored window treatments filter in some sunlight to prevent a room from feeling too dark and dreary.
Block out the heat
In warmer climates or summer months, shades can still act as a buffer, but in the opposite way: keeping the heat out and the cool air inside. Especially helpful on west- and south-facing windows, shades block the strong summer sun to keep a room comfortable. Blackout shades are particularly effective in blocking out heat and keeping rooms cooler.
Shutters and blinds are also an effective option at keeping heat out, according to the U.S. Department of Energy: "When completely closed and lowered on a sunny window, highly reflective blinds can reduce heat gain by around 45 percent. They can also be adjusted to block and reflect direct sunlight onto a light-colored ceiling. A light-colored ceiling will diffuse the light without much heat or glare.
As the position and strength of the sun changes throughout the day and the year, using and adjusting window treatments strategically in your home will help you maximize their energy-saving effects.
Read our roundup of ways to be more efficient with windows and doors
The U.S. EPA has a great resource for homeowners looking to estimate their carbon footprint: the Carbon Footprint Calculator.
This quick online tool covers the categories of home energy, transportation and waste. To start, you plug in your zip code and the number of people in your household. Then, for each of the three sectors, enter your current usage, as well as actions you might take to reduce it in the future, such as adjusting your thermostat or driving fewer miles.
The calculator adjusts as you go, giving you a total compared with the U.S. average for the zip code and number of people in your home. Click "View the report" at the end to see a graphic breakdown of your planned actions and how they translate into reduced CO2 and dollars saved.
On Fridays, Green Home Guide shares green home-related content curated from around the web. If you see a great article on aspects of environmentally friendly home living such as green building, renovation, energy use or cleaning, please send it our way.
Spring officially starts on March 20, and before you know it, it will be time to think about gardening. Green Home Guide has rounded up a few useful articles for you:
Do you live in a dry climate? Curbed's article about drought-resistant landscaping shares tips for locating your garden site, choosing plants and reducing water waste.

The Missouri Botanical Garden compiled tips on sustainable gardening that include how to recycle plant material and pots and how to incorporate rainscaping features and other water collection methods.

OneYardRevolution's video "How to Grow a Lot of Food in a Small Garden" offers nine tips for growing more food sustainably in less space:
Become a green home expert with this vocabulary roundup of today's industry buzzwords, strategies and methodologies in the building and design community.
Green homes are energy- and water-efficient, create less waste and are healthier for occupants than a standard home. Looking for more? Learn about their benefits and why more homeowners are working to transform their spaces into more sustainable places to live.
1. Biomimicry
Biomimicry is the study and imitation of nature's systems for solutions to today's human challenges. It's based on the idea that nature has already solved the issues that societies worldwide are grappling with, such as energy and transportation.
Derived from the Greek words bios (meaning "life") and mimesis (meaning "to imitate"), the term "biomimicry" gained popularity following Janine Benyus' 1997 book "Biomimicry: Innovation Inspired by Nature." Explore how biomimicry can be applied to building design in "Biomimicry: Designing to Model Nature" by Stephanie Vierra of Vierra Design and Education Services, LLC.
2. Embodied energy
Embodied energy is a common term you've likely run across in sustainability or building literature. It's defined as the sum of all energy required to produce any goods or services, including extraction, manufacturing and transportation.
3. Energy Star
Have you been on the lookout recently for energy-efficient refrigerators, washing machines or lighting? You've probably seen the label Energy Star. Energy Star is a voluntary labeling program created in 1992 by the U.S. Environmental Protection Agency to identify and promote energy-efficient products.
4. Greywater
Greywater, or gray water, is generally referred to as water that's been used from showers and baths, washing clothes, and doesn't include toilet waste, according to New Mexico State University's College of Agricultural, Consumer and Environmental Sciences.
Although the used water may contain grease, food particles and other impurities, it's still suitable for reuse and is a good source for irrigating landscapes. Visit Greywater Action's website to learn more about how greywater can help cut water use.
5. Home Energy Rating System (HERS)
The HERS Index is a scoring system developed by RESNET (Residential Energy Services Network) that's used to calculate a home's energy efficiency. The lower the score, the more energy-efficient the home is. A home's HERS Index score is generated from the results of an energy rating conducted by a RESNET Home Energy Rater.
6. Life cycle assessment
Life cycle assessment is an evaluation that attempts to identify all environmental effects throughout the life of materials, products or buildings. It looks at all processes and associated inputs and outputs, including material extraction and processing, manufacturing, transportation, maintenance and recycling/disposal, according to the LEED Core Concepts Guide.
7. Passive building
Passive building, based originally on the Passivhaus concept, comprises a set of design principles that aims to promote energy efficiency, according to the Passive House Institute US. It uses five building-science principles:
Continuous insulation through a building's entire envelope, without any thermal bridging
An extremely airtight building envelope that prevents outside air infiltration
High-performance windows and doors
Balanced heat- and moisture-recovery ventilation and a minimal space conditioning system
Solar energy used for heating purposes
8. Volatile organic compounds (VOC)
VOCs are carbon-containing substances that can be present in paints, coatings such as varnishes and cleaning products. They can cause headaches; nausea; and irritation to the respiratory system, skin and eyes, among other ailments. Learn more about how you can avoid VOCs in your home.
9. Zero net energy (ZNE)
Zero net energy means that a building consumes only as much energy as it can produce by renewable methods. In the past few years, the number of buildings achieving zero net energy has increased 74 percent as this concept catches on. The state of California has even set goals for all new residential construction to meet this standard by 2020.
Recently released data from the 2017 Sustainable Energy in America Factbook, published by the Business Council for Sustainable Energy (BCSE), shows that energy savings for consumers have been increasing with the growth in green energy sources. As a member of the BSCE, USGBC detailed some of the findings from this research, developed by Bloomberg New Energy Finance.
According to the report, in 2016 U.S. consumers spent less than 4 percent of their overall household spending on energy—the lowest number ever. Green technologies like wind and solar power have increased sixfold in the past decade, and renewable energy now forms 22 percent of our power sources nationwide.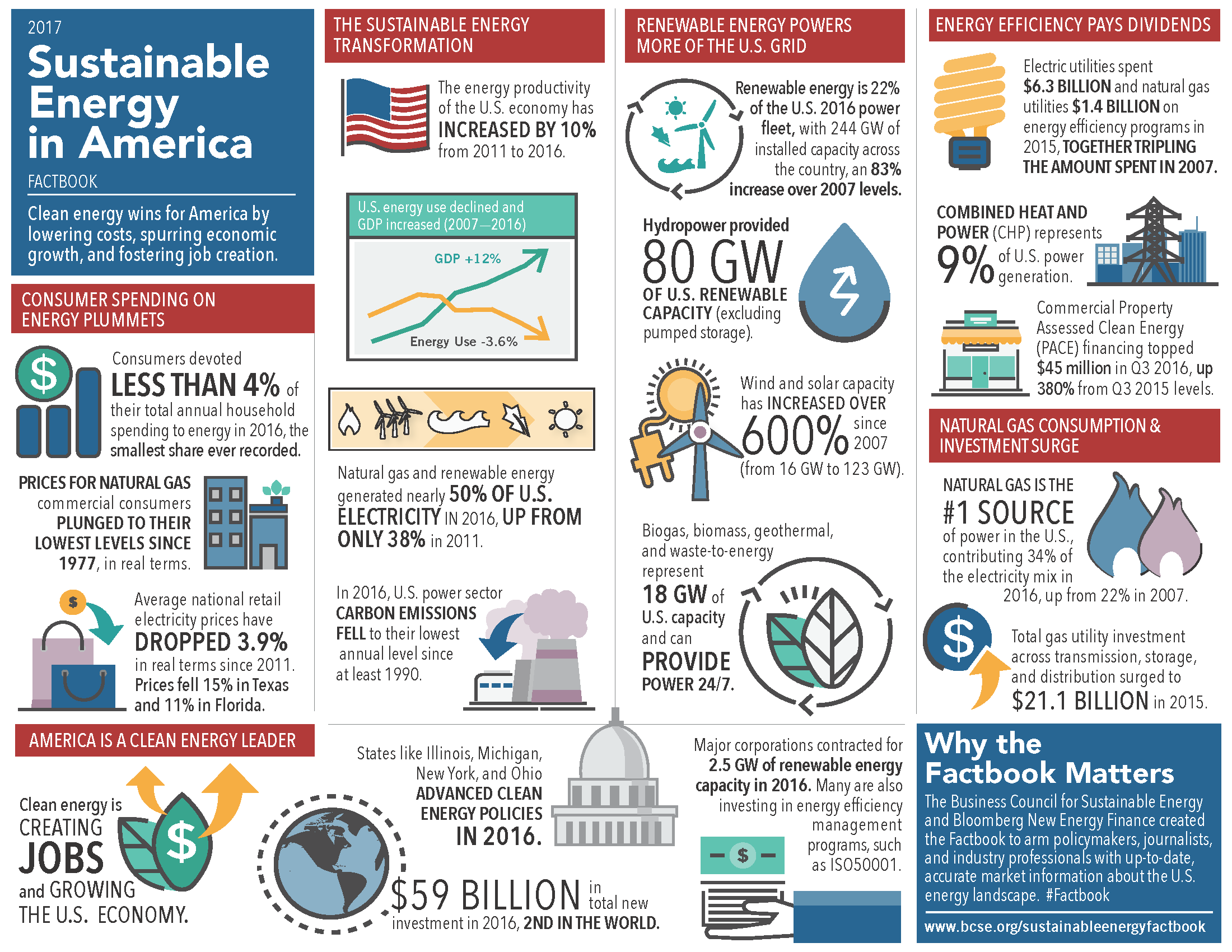 Infographic: Business Council for Sustainable Energy Factbook.


Sustainable energy is the future. Here are the top five ways you can benefit from including it in your lifestyle and home:
1) Reduce your reliance on fossil fuels by driving an alternative-fuel vehicle. Electric cars save you money at the pump while also producing less pollution. Better yet, ride a bike, walk or take public transportation—there are many options to suit your lifestyle.
2) Take advantage of the sun's power with solar energy. Solar panels or thermal collectors can help you convert sunlight into electricity or heat, reducing your utility bills.
3) Get an energy audit before making renovations or home improvements, to see what your baseline is and get tailored recommendations for ways to enhance your property's energy efficiency.
4) Install Energy Star appliances. Machines with this seal of approval require less energy to operate. Refrigerators, washing machines, dryers and dishwashers are some of the items you can use to reduce your footprint.
5) Choose more efficient lighting. CFL and LED light bulbs use a lot less energy than incandescents. And while you're at it, make sure to remember to turn those lights off when you leave the room.
When it comes to green homes, solar energy has gone from being a futuristic innovation to a standard way that green homeowners reduce their environmental footprint and save on energy costs. But if you're just starting the green home planning process, you may be wondering what all the solar energy terms you've heard actually mean.
Take a look at our quick rundown of the kinds of solar energy you can use in greening your home:
Passive or active
Solar energy can be passive, meaning it is accessed directly, such as when sunlight warms a house by streaming into the windows or skylights at a certain time of day. Active solar energy, by contrast, is harnessed and enhanced by mechanical components. An example of this would be a pump-operated solar water heating system.
Passive solar energy.
Both kinds of energy can be used in the same home design—you might have solar panels on your roof, and additionally choose the site of your home to maximize natural daylighting. (See the LEED Building Orientation credit.)
Photovoltaic
Photovoltaic, or PV, is also sometimes referred to as solar electric energy. Energy from the sun is converted into electricity through solar cells, put together into larger solar panels. These are commonly placed on the roof of a home. The whole system comprises these panels, batteries, electrical components and a mounting framework.
Photovoltaic panels. Photo by Angela Jimenez for USGBC/ContentWorx.
When installing a system like this, make sure you've asked the right questions about its suitability for your needs, and that you find a qualified contractor for installation.
Thermal
Solar thermal systems convert the energy of sunlight into heat rather than electricity. This technique also uses rooftop flat panels or tubes, called thermal collectors, as well as a pump that delivers heat to a water storage tank. The heated water in the tank feeds into the home's main water-heating system and is accessible when needed by the residents in the home. As a result, the house's boiler or water heater is activated less frequently, and utility bills are reduced.
Photo: REGREEN Evacuated Tube Solar Thermal.
Solar water heating can also be used for space heating, such as through in-floor radiant heating (where solar thermal-generated hot water flows through pipes under the floor). This type of in-floor heating or baseboard heating can supplement your regular heating system, but probably not replace it entirely.
This technology isn't just limited to your home—you can also use thermal solar energy to heat your swimming pool.
Solar cooling
It sounds like a contradiction in terms, but cooling your home may also be done through solar energy, using any of the above methods: passive, thermal or photovoltaic. In passive solar, you would use principles of design to minimize heat transfer, such as through cool-roof technology.
Active, thermal solar energy cools when the thermal collectors provide energy to adsorption or absorption chillers (this is mainly used in large buildings, such as businesses). With PV, the solar energy that is driving your electric usage is assisting with the electrical load of running an air-conditioning unit.
Concentrated solar power
Concentrated, or concentrating, solar power (CSP), is one kind of thermal energy. CSP uses an array of mirrors or lenses that concentrate a large area of sunlight onto a small area to create heat for power. This is a large-scale technology employed by power plants. According to the U.S. Department of Energy, one CSP plant can generate power for 70,000 homes.
Resources
Learn what federal and state incentives are available for solar
You've made the big decision—you're going to pursue LEED v4 certification using the Homes rating system. Now it's time to get your ducks in a row.
We offer many resources for LEED project teams to get you started on the right foot. Here are the tools and resources that can help you succeed with your project.
General LEED v4 resources
Homes resources
On Fridays, USGBC shares green home-related content curated from around the web. If you see a great article on aspects of environmentally friendly home living such as green building, renovation, energy use or cleaning, please send it our way.
Getting children involved in green living and enthusiastic about saving energy and resources is easy, when you make it fun. This week, we've rounded up several articles that share resources for families.
In "Home Energy Conservation for Kids," HomeAdvisor shares an abundant link-list of further resources for teaching your kids about saving energy, as well as activities and games that can make it enjoyable for them.

PBS Kids has a kid-friendly definition on its youth website. "Green Living: The Meaning of Greening" also shares quotes from other young people, journal prompts, recycling tips and games.

Does your child need a cool idea for a science or design fair project? Classroom has a step-by-step guide to researching and building a model eco-friendly home with green features.