As a homeowner, you take pride in your lawn. A bright green, luscious lawn is a badge of honor: It shows that you not only care about the look and feel of your surroundings, but you also make sure that important outdoor tasks get done. Mowing the lawn to the right height, watering it properly, raking away leaves and debris—that takes time and effort.
Another reason to gloat about your verdant lawn: Natural grass helps the environment in many ways. Here are a few of the biggest effects a healthy lawn has on its surroundings:
1) It produces clean air.
Like most plants, grass breathes in carbon dioxide and releases oxygen, detoxifying the air and making it easier for humans to breathe. Even a small amount of grass can have a significant impact on the quality of air: A 50x50-foot lawn produces enough oxygen to keep a family of four breathing clean.
2) It reduces dust pollution.
Another major contributor to air pollution, dust is limited and maintained by areas of turf. Grass traps dust in the soil, preventing wind, humans and other creatures from kicking particles into the air. Plus, grass tends to attract airborne dust and smoke, pulling it out of the air as if by magnetism.
3) It moderates ground temperature.
Gravel will reflect the sun's light and heat, making a gravel-filled space unbearable hot. Conversely, lawns absorb the sun's rays to use as energy, and in doing so, they can produce their own evaporative cooling mechanism, keeping their area temperate. Dry soil can get as hot as 102 degrees Fahrenheit, but grass tends to hover between 88 and 75 degrees, even on the hottest days, so it modifies the environment by controlling specific temperatures.
4) It filters groundwater.
Turf's final major environmental impact occurs below the surface. As water seeps into the ground through grassy areas, the leaves and roots of grass filter out most contaminants. As a result, water passed through a lawn tends to be more than 10 times less acidic than other runoff, allowing clean water to nourish the environment and return to human homes.
How to keep your lawn healthy
Humans don't gain the benefits of grass if they let their lawns go fallow. Turf requires some maintenance every season, so every homeowner should consider keeping a summer, fall, winter, and spring lawn maintenance schedule. Furthermore, you should care for your lawn in environmentally friendly ways, which means using organic fertilizers, chemical-free pesticides and even eco-friendly grass varieties.
What you can do:
Water deeply and infrequently. In most regions, grass doesn't need water every day. Instead, pay attention to your lawn and water only when you must.
Mow high. Tall grass might need mowing more often, but it tends to be stronger and healthier, too. Set your mower to about 2.5 inches.
Allow thatch to form. A lawn is an environment in itself, filled with safe bacteria and beneficial bugs. A lawn needs these critters to live in its thatch to be healthy.
Did you know that most of the furniture used in homes and offices can be recycled? Many people already recycle common household materials such as paper, plastic, cans or glass bottles, but there are numerous ways to recycle your old furniture as well. Millions of household items are sent to landfills every year, and recycling will help in bringing this number down.
Here is a rundown of several ways you can recycle old furniture, instead of just kicking it to the curb for the trash truck to pick up:
1. Donate the item.
If you don't need your old furniture, donate it to charity or give it to someone who needs it. There are several websites, such as Freecycle, that allow you to list unwanted items that people can collect from you if they are interested. You can also ask a store like Goodwill or Salvation Army to pick it up, or you can take it to their store location and drop it off.
2. Sell the item.
If you're planning to get rid of some other items, add your furniture to a garage sale or neighborhood yard sale event. You'll generate some cash while also ensuring the rocking chair or dresser you've outgrown has a new home. Just make sure they're still in usable condition. You can also sell your furniture on websites such as Craiglist.
3. Refinish or reupholster it.
Before you decide to get rid of it, consider refinishing your furniture to get a brand new look. Take the furniture to a professional restoration expert or go the DIY route. Use a little imagination and turn your old furniture into something new and amazing. Put on shiny new paint, or go the opposite route and get a vintage look by creating an artfully cracked or distressed look. For old couches and chairs, consider reupholstering the pieces with a fresh new fabric.
4. Repurpose it.
Some creative ways to repurpose your old furniture:
Use a ladder to hang towels or blankets.
Reinventing an old door as a headboard for your bed.
Repurpose a wooden packing crate as a side table to stack magazines.
Reuse old lockers as shoe storage.
Elevate your mattress with wood pallets.
Use old travel trunks as bedside tables, coffee tables, side tables or display pieces.
5. Recycle it.
You can recycle the material of the furniture itself. If it's made of wood, metal or some other recyclable material, you can take it straight to your nearest large recycling bin or community recycling facility.
Learn how to recycle old kitchen materials during renovation
This article was originally published as "On the Home Front" in the May/June issue of USGBC+. Read the original version.
After installing high-efficiency appliances and lighting during renovations of her Eichler home, Elizabeth Milne, a lawyer from Palo Alto, California, was shocked to see her electricity bill actually go up. The culprit? A newly installed instant hot water heater on the sink that immediately provided boiling water—but that also relied on an always-running heating coil that kept the water at a high temperature 24 hours a day.
"I just unplugged it and my utility bill went down," she says.
Like many, Milne is on a journey to green her home. In addition to installing better appliances, she also repainted the walls with low-VOC paint and replaced the kitchen backsplash with tiles made from recycled glass. But she wants to do more—on a reasonable budget—and has questions about things like graywater reuse, the most environmentally friendly furniture, the life cycle of different products, and the overall impact that different "green" decisions make compared with others.
USGBC's second quarterly roundup of the top research and news on residential green building offers a new green and energy-efficient home appraisal tool, a lively primer on the Low-Income Housing Tax Credit program, a Department of Energy profile on hurricane-resilient housing and research into the impact of climate change and rising sea levels on American homeowners.
Appraisal Institute Improves Tool to Aid Valuation of "Green" Home Features | Appraisal Institute
This recently released tool for appraisers will allow realtors and lenders to better analyze, report and understand data for green and energy-efficient homes. The updated Residential Green and Energy Efficient Addendum will help standardize appraisals for high-performance features and residential properties, including properties with a green certification such as LEED.
Low-Income Housing Tax Credits: Why They Matter, How They Work and How They Could Change | Zillow
Alexander Casey of Zillow has an excellent primer on Low-Income Housing Tax Credits (LIHTC), a federal tax credit program for rental housing for lower-income households. Created by the Tax Reform Act of 1986, the program has contributed to the acquisition, rehab or construction of nearly 3 million housing units. Learn what's working, what's not, and what's next, given our current political landscape.
In a related story, Pennsylvania added LEED certification to its LIHTC selection criteria, a strong move in prioritizing funding for projects that provide energy-efficient and healthy housing.
Can this House Survive a Hurricane? It SURE Can! | Department of Energy
With hurricane season in full gust, the Office of Energy Efficiency and Renewable Energy published a timely profile of the SURE House, winner of the DOE Solar Decathlon 2015. Designed by the Stevens Institute with residents hit hard by Hurricane Sandy in mind, the SURE House is a resilient, solar-powered modular home ready for life on the coast.
Climate Change and Housing: Will a Rising Tide Sink All Homes? | Zillow
As the White House announced its intent to withdrawal from the Paris Agreement, Zillow's Krishna Rao examines the impact global warming and rising sea levels could have on American homeowners. Her research, based on National Oceanic and Atmospheric Administration and Zillow data, gives "underwater homes" a whole new meaning. If sea levels rise by six feet by the year 2100, nearly 1.9 million homes—worth a combined $882 billion—are at risk of being submerged.
Labels, Certifications, and Scores, Oh My! Following the Road to Green Real Estate | 2017 Better Buildings Summit
At the 2017 Better Buildings Summit, a national meeting showcasing solutions to cut building portfolio energy intensity, the Appraisal Institute, Elevate Energy and the Real Estate Standards Organization presented a multitude of tools available for greening residential real estate. From The Home Energy Score to green financing products and tools to better capture green features in real estate appraisals, this slide deck outlines new resources available in the growing green residential sector.
If you have suggestions for future studies we could share, please contact Nick Brousse.
This is a shortened version of the article "How to Sustainably Remodel Your Home," on Norstone USA's website, and is presented here with permission. Read the full version.
By choosing to remodel, you have already made a green choice. Instead of building a home from scratch, remodeling allows you to reuse materials in your home that are already in place. Remodeling your home with sustainability in mind will contribute to a positive impact on the world's energy consumption.
Having an environmentally friendly home will allow you to avoid many negative aspects of renovating, such as
Hurting the environment with newly harvested and wasted materials.
Off-gassing of toxins.
Increasing the amount of construction and demolition waste and debris.
Having an eco-friendly home can change the quality of life for you and your family in many drastic ways. Sustainable appliances will ultimately reduce your bills thanks to their energy efficiency. There are even incentives offered by local, state and federal agencies for going green in your lifestyle. Windows, doors, roofing, insulation, and HVAC are all items of a home remodel that are subject to tax credits. Local utility providers sometimes offer rebates for green upgrades as well.
Refresh instead of replacing
Recycling is a huge aspect of living a green lifestyle. Repurposing items and materials prevents unnecessary purchases for your home upgrades. Saving natural resources and reducing the emissions from the manufacturing and transportation of these materials does the environment a huge favor. Many green products and materials are also more durable and effective compared to non-sustainable products.
Deconstruct instead of demolishing
Demolition has an immense impact on the environment due to material waste. Before remodeling your home, think strategically about what to deconstruct and what items to keep. Thinking sustainably ahead of time can save you money by minimizing your long list of materials to buy and reduce waste. Walk through your home and see what you can re-use. Light fixtures, molding, cabinets, and even doors can be repurposed.
Start small
If after doing your research you realize that you just can't sustainably remodel your entire house at the moment, think about it in phases. If you want to start with running a more efficient household, focus on
Energy-efficient appliances.
On-demand water heaters.
High-efficiency insulation.
Solar technology.
The next step of your green remodel can tackle things like using
Sustainably harvested woods.
Reclaimed lumber for system rebuilding.
Reclaimed fixtures.
Rainwater collection as part of your home plumbing system.
If you love the idea of renovating your home to be more energy-efficient, but can't take on a full house remodel, think about remodeling on a room-by-room basis. It may feel more realistic to take on the upgrading of kitchen appliances to be more sustainable, instead of picturing all of the things in your home that need to be addressed.
Photo courtesy of Norstone USA.
You can also take a step back and conceptualize how much space you actually need in your home. If you have a room that doesn't get much use, you can either reduce your overall square footage or repurpose it into a space that would be further enjoyed. Smaller living spaces are ultimately more affordable, and have less negative impact on the environment by using less materials and emitting fewer toxins into the air.
Another idea that is mindful of space is to double up on the purposes of your rooms. You can easily add a washer and dryer to a kitchen or bedroom in a discreet way, or even into a hallway or a closet. Open-concept homes often have one large room that serves as the kitchen area, living room, and dining room.
The kitchen
An eco-friendly kitchen possesses a design that embodies healthy living as well as energy efficiency. Nontoxic materials used in the kitchen are central to having a sustainable kitchen as well. From cabinetry to flooring, these products often have added urea formaldehyde, which emits gases and endangers healthy living. Glue, sealant, paint and coating may also have toxins that should be avoided.
When designing your kitchen, it is advised to go for more classic looks. Not only will it cost you money to replace out-of-style colors and countertops, but it also fuels waste buildup by frequently ripping out and replacing these materials.
A stone backsplash is a favorite final touch for many homeowners. This can be one of the most sustainable elements in your green kitchen. Rock panels are commonly used for stacked stone backsplashes as they have one of the most durable finishes, and use a natural stone sealer.
Photo courtesy of Norstone USA.
Energy-efficient appliances
One easy way to have confidence that your appliances are sustainable is to use Energy Star, the EPA's defining, voluntary program in the energy efficiency movement. In addition to having only the most sustainable appliances in your kitchen, it will also make a difference where you place them. Choose to locate your refrigerator in an area of your kitchen where it will not be exposed to direct sunlight to optimize its energy-saving capabilities.
The bathroom
Twenty-seven percent of household water is used in toilets. Installing and maintaining efficient water and plumbing systems are critical factors to consider when sustainably remodeling your bathroom. Your shower and sink faucets can also be swapped out with low-flow devices in order to save on water.
Low-volume and dual-flush mechanism toilets are becoming more popular as well. As for sinks, know what materials are safe to use in your green bathroom. Natural ceramic and nontoxic cement are popular options for hardware and sink basins.
Choosing materials
Knowing what you are purchasing when it comes to remodeling your home is arguably the most challenging aspect. Homeowners need to know what to look for when purchasing products, materials, and appliances. Keep in mind that there are currently no EPA regulations around terms like "natural," "organic," or "sustainable."
Photo courtesy of Norstone USA.
All sustainable products are not created equal. Like Energy Star, there are certifications that indicate a level of sustainability, such as the Greenguard certification. This will help optimize the indoor air quality of your home. The best way to do this is to look for materials that will not emit toxic chemicals into the air.
Avoid volatile organic compounds (VOCs). According to the EPA, VOCs pose long-term health problems. In general, natural home products are more durable and effective than man-made products. For instance, a wool rug will outlive a synthetic rug by about 45 years. In the same manner, natural linoleum lasts twice as long as vinyl flooring. Granite is one of the most popular countertop materials, since it can last for generations.
Green experts
It is wise to do your own research to be able to offer suggestions on eco-friendly materials when it comes to your remodel, but there are countless designers that are fully informed and have a driving principle to make people's homes more sustainable.
Enlist a designer who knows your need to be green. Here are some sample questions that an environmentally friendly designer should be able to answer:
"What is your process to incorporate my needs into a successful kitchen design?"
"How are you positive that the selected design and new architecture of my home will last a lifetime?"
"What materials do you find to be more durable, and also do not emit toxins into the air?"
"What are some fads you are seeing that we should avoid when creating a green living space?"
Articulating your needs and expectations are a must to be able to have your builder put your vision into motion. Visit building supply stores to look into Energy Star appliances, recycled material options and efficient lighting. You can also take tours of local green homes near you to scope out designs that match your dream home ideas.
Sustainability on a budget
Contrary to popular belief, remodeling your home sustainably does not mean it has to be expensive.
Use reclaimed materials. Buying reclaimed materials, like wood, is an environmentally friendly choice. It saves not only time and energy, but money. Refacing instead of replacing will also save you money. Find ways to salvage what is already yours to help your budget remain conservative.
Shop local. Having green materials shipped can quickly add up. By searching locally for handmade materials, you will save money. Buying pre-owned materials is another general way to cut renovation costs. There are many local sources for used hardware, plumbing, cabinetry, appliances and countertops.
Choosing paint for your home that is safe for your family and indoor air quality can seem like a mystifying quest. Is there a real difference between "low-VOC" and "zero-VOC"? What is "off-gassing"? If you choose the safest kind of paint, will it stand the test of time?
Here's a breakdown of the factors involved in buying green paint.
VOCs
Volatile organic compounds, or VOCs, are carbon-containing substances that easily become vapors or gases. They can be present in paints, coatings and cleaning products.
In coatings, the solvents containing VOCs assist with the quality of application and drying, so that a substance like paint does not streak on a surface. However, they can cause respiratory and other health problems for occupants, when used indoors. Their release into the indoor atmosphere is called off-gassing, and it occurs over time, not just during paint application or drying.
Paints labeled "low-VOC" should contain fewer than 50 grams per liter of volatile compounds, if they meet the Green Seal standards. Since there is no one regulatory standard, the low-VOC designation means different things depending on which body is certifying it, but 50 grams is the common bar for architectural flat paints. You can compare standards for other types of coatings in the influential South Coast Air Quality Management District Rule 1113. Most low-VOC paints are latex-based. Adding pigment to a paint base may also increase its VOC levels up to an additional 10 grams per liter.
Paints labeled "zero-VOC" may actually contain a small amount of VOCs—usually fewer than 5 grams per liter. There are also completely natural paints, such as milk paint or chalk paint, that carry no VOCs.
Durability
Sometimes, you have to make a trade-off: lower VOCs for more frequent paint applications. The substances that can make your paint more toxic are also sometimes the ones that cause it to dry faster and to stick better, for longer. For example, if you apply milk paint to your nursery wall, it may take several days to dry, and may need to be recoated sooner.
However, paint formulations are always changing and improving. Chances are, the paint you buy today has already solved some of the formulation hurdles of two years ago. Companies are increasingly focused on creating more low- or zero-VOC interior paints.
Resources
As paint formulators balance the needs of human health with those of durability, they come up with better products, so it's worth staying on top of the latest by looking for online resources of top products and checking with approved lists from GreenSeal and GreenGuard.
Electric vehicles (EVs) need electricity to charge them, and auto company Tesla has created a new way for people to charge their EVs overnight. The new "Solar Roof" can also be used as a power source for any electricity generation needs you have.
You might have noticed traditional solar panels on roofs in your neighborhood. The Solar Roof is different, because it uses small solar panels that look like roof tiles, making them a kind of invisible power plant on top of your house.
Close-up of slate Solar Roof tiles. Photo courtesy of Tesla.
Here are the simple steps to turn your roof solar.
Get online. Get a price quote online based on the size of your roof. That, along with your regional address, will also tell you roughly how much energy your roof would generate.

Get in line. There is a waiting list, because this is a first-edition product. A $1,000 down payment will save your space in line.

Consider the life span of your roof. Common asphalt roofs last about 15–20 years before they require a facelift. Try to find out the age of your roof—is it due for a replacement anyway? The Solar Roof warranty is for "the lifetime of your house, or infinity, whichever comes first."

Do some more math. This type of roof should ultimately pay for itself with the electricity savings they produce, but to decide if this is a wise investment for you, work out exactly when that day will come. That way, you can start the countdown!

Pick your favorite style. Roof tiles are part of the overall look of your home. The smooth gray glass and textured black glass styles are the current available options. Next year, slate glass and Tuscan glass will be released.

Check for tax credits. The Solar Energy Industries Association is a great place to search for Solar Investment Tax Credits. This can shrink the price tag by 30 percent.
Permitting, installation and maintenance of the Solar Roof is handled by Tesla, and the process takes about the same time as a regular roof, 5–7 days.
This article was originally published on Houzz on April 12, 2012, as "Roof Overhangs Project Lower Energy Costs," and is presented here with permission. Read the original article.
Summer is coming upon us swiftly. Soon, if you are in the Northwest U.S., you will be outside enjoying all the sun you can get. If you are in the Southeast, you will be inside with air conditioning, taking a break from heat and humidity.
But no matter your locale, there is one building feature that can aid in summer cooling and winter warming: deep roof overhangs. Depending on depth and placement, large overhangs (or even strategic awnings) can shade a house in the summer and still allow warm light in in the winter.
In general, a south-facing overhang will direct the sun's rays lower on the window, allowing less light in and preventing that light from heating up the house in the summer. This means less need for air conditioning, less energy used and less money spent.
A good overhang will also allow more winter light to penetrate a building than summer light, thereby allowing light and heat in during the cooler months, which again saves in energy and electricity costs.
Overhangs are most effective for south-facing elements (in the northern hemisphere) and at midday. If the building element bears more than about 30 degrees off true south, the effectiveness of an overhang decreases, says the U.S. Department of Energy.
Even if you aren't interested in saving money by reducing cooling costs, large roof overhangs can still provide shelter and help protect a house from bad weather. Oh, and they look good, too.
Photo credit Coates Design Architects Seattle; original photo on Houzz.
Large roof overhangs on a house by Coates Design Architects in Seattle do more than put a modernist stamp on the structure. They also protect it from the Pacific Northwest's driving winter rain and mitigate hot summer sun.
Graphic credit DOE Office of Energy Efficiency and Renewable Energy; original photo on Houzz.
This diagram from the U.S. Department of Energy shows how a roof overhang can prevent hot summer sun from getting in. Here, the summer sun's angles are directed at the ground.
But that same smartly oriented overhang can also allow maximum light during the winter, as shown, when you want that extra bit of heat.
Photo credit Warmington & North; original photo on Houzz.
Roof overhangs can be all sizes, and they need not be purely utilitarian. This one, on another Pacific Northwest house, provides all the benefits of passive cooling and weather protection, but it's the drama of the overhang that may matter most. This house would be aesthetically naked without this roof.
Photo credit One SEED Architecture + Interiors, original photo on Houzz.
A diagram by One Seed Architecture + Interiors in Vancouver, British Columbia, shows how roof overhangs block southern sun but how south-facing glazing allows full sunlight exposure.
In this house, the thermal block walls—exposed to the sun during the winter—also absorb that winter sunlight and distribute the heat throughout the day, helping to warm the house.
Photo credit The Impatient Gardener; original photo on Houzz.
Not all roof overhangs are designed solely for passive cooling. This one is a quirky architectural addition, and it also protects people at the door from wind, rain and snow.
Besides providing passive cooling and shelter, as in this example, roof overhangs also save doors and windows from bad weather (saving you money), and protect a house's exterior and foundation from water runoff.
Photo credit FINNE Architects; original photo on Houzz.
The roof overhang on this house in Michigan's Upper Peninsula, by Finne Architects, protects the house from sun, yes, but also from the Midwest's heavy snow.
The Department of Energy has some region-specific recommendations for roof overhangs:
For cold climates, at base 65 degrees Fahrenheit, locate the shadow line at midwindow using the June 21 (summer solstice) sun angle.
For moderate climates, at base 65 degrees during days when heat is needed and base 75 degrees during days when air conditioning is needed, locate the shadow line at the windowsill using the summer solstice sun angle.
For hot climates, at base 75 degrees, locate the shadow line at the windowsill using the March 21 (vernal equinox) sun angle.
Photo credit John Maniscalco Architecture; original photo on Houzz.
A house by John Maniscalco Architecture, covered in snow, showcases a surprising green benefit to large, flat roofs with overhangs: Light from interior and exterior fixtures is reflected and spread by the underside of the roof. This means fewer light fixtures and less energy used.
Photo credit Beard + Riser Architects; original photo on Houzz.
This house in Mississippi by Beard + Riser Architects is oriented along an east-west axis to maximize solar control. The front of the house faces south and features a large overhang that folds over the edge of the roof to block direct summer sun. The translucent fiberglass panels along the porch overhang allow filtered northern light into the house.
Related articles
The amazing versatility of bamboo is no secret to green revolution visionaries like architects and builders. They learn firsthand how easily bamboo can be shaped and formed into different building components.
Indoors, sustainable bamboo is a great material for beds, sofas, tables and chairs. Textured bamboo panels enhance the walls, ceilings and sides of breakfast bars and cabinets. You'll find bamboo beneath your feet, too, as floor mats and sleek bamboo floor panels. Bamboo is in the finer details of kitchens, too—in essentials such as bamboo spoons, spatulas and cutting boards.
Outdoors, you can relax outside in a bamboo lounge chair or enjoy the beauty and privacy of a backyard protected by a bamboo panel fence.
Sourcing bamboo
Over 1,000 species of bamboo are native to Asia, Australia, North and South America and Sub-Saharan Africa, but it grows best in tropical climates, where it's built houses and structures for hundreds of years. Once harvested, bamboo, just like wood, must be dried and treated to protect it against pests and to maximize its strengths as a building material.
Building with bamboo comes with a unique set of benefits, unmatched by traditional building materials. These are just a few of them:
1) It's sustainable.
Worldwide interest in bamboo for residential construction is rising rapidly as climate change evolves from theory to scientific fact. Eco-friendly bamboo is one of the fastest-growing wild grasses on earth. It reaches heights of full maturity in as little as three years and regenerates quickly after harvesting. Some bamboo species can grow over 35 inches in a single day. Bamboo thrives on otherwise unproductive land like deep ravines and mountainsides.
2) It's environmentally friendly.
When choosing floor coverings for a new, green home, it's good to know that bamboo floors are completely sourced from eco-friendly sustainable plants. Bamboo forests are very friendly to the environment. They reduce pollution by producing oxygen, more than 35 percent more than trees do. Their roots create a water barrier that helps control soil erosion. Bamboo also consumes high quantities of nitrogen, which helps reduce water pollution.
3) It's recyclable.
A study by the National Association of Home Builders estimates that about 8,000 pounds of waste is created from the construction of a single 2,000-square-foot home. The majority of the waste is wood, cardboard and drywall, and almost all of it ends up in landfills. In comparison, bamboo is completely recyclable.
4) It's strong.
Some bamboo species have the same strength ratio as steel and almost twice the compression ratio of concrete—not bad for a hollow, light-weight grass. Building with bamboo is hardly a new concept. Many countries have been doing it for hundreds of years. Inspired by heightened interest in eco-friendly bamboo, trail-blazing teams of architects and builders are creating amazing bamboo structures for schools, hotels, homes and even bridges.
5) It's earthquake- and hurricane-resistant.
Due to its light weight and elasticity, bamboo is a popular building material in areas of the world where earthquakes, hurricanes and typhoons strike more frequently. Bamboo absorbs the shocks of seismic activity and high winds far better than rigid concrete and steel structures.
With remarkable benefits like these five, bamboo is destined to play a major role in the green revolution as more people and businesses choose to build with this versatile, sustainable building material.
This article was originally published on Houzz on June 4, 2012, as "Ecofriendly Kitchen: How to Choose Flooring," and is presented here with permission. Read the original article.
Going green with your kitchen floor brings benefits beyond making you feel good about your selection. Durability is the biggest prize. Think of homes with wood floors that may be nearing a century old—this is sustainable thinking at its best, because a long life expectancy born of durable materials means conservation of natural resources. And this approach is kind to your financial resources, too.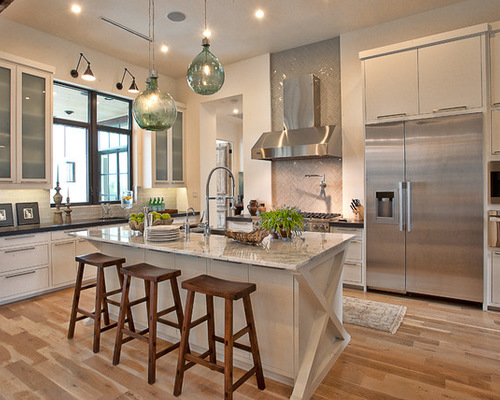 Photo credit Cornerstone Architects; original photo on Houzz.
Wood floors
Ecologically speaking, wood can be the best or the worst of materials. It can be almost perfect when harvested sustainably. It's durable, it has a long life cycle, and milling can be simple and require little energy. However, wood that's not harvested sustainably can be environmentally destructive. When choosing wood floors, look for the following to ensure you're making the most sustainable choice.
FSC-certified: The Forest Stewardship Council (FSC) is an independent agency that provides certification, or approval, to wood that's been harvested in a responsible manner. Think of it as wood's equivalent of organic.
Local species: Wood that's been harvested locally minimizes transportation-related energy, supports the local economy and reinforces the sense of place.
Hardness: The Janka scale measures the resistance of a species of wood to denting and wear. The scale ranges from 22 up to 5,000. Teak comes in at 1,000.
Photo credit Viridian Floor; original photo on Houzz.
Reclaimed wood floors. Smart manufacturers are seeking sustainable opportunities. Viridian Wood salvages shipping crates made of tropical hardwoods and repurposes them into high-performance, FSC-certified floors. This house showcases Viridian's dark blend of Jakarta wood throughout the kitchen and the rest of the home.
Tropical hardwoods are the hardest woods on the planet, occupying the top positions on the Janka scale, which makes them a great choice for durable flooring. However, the harvesting of tropical woods causes significant ecological destruction. Seeking FSC-certified wood is especially important with tropical hardwoods, as it will ensure the wood was harvested in a sustainable manner.
Photo credit: Alan Mascord Design Associates Inc; original photo on Houzz.
Engineered wood floors. Extending wood floors into the kitchen is a terrific way to seam together several spaces, as this home demonstrates. Doing so requires a stout floor that can take the wear a kitchen doles out. Engineered wood floors can be a durable choice, since they have a thin veneer of finished wood backed by several layers, or plys, of more wood. This layered system makes engineered wood more stable than solid wood and less likely to warp when faced with temperature changes and humidity. Look for FSC-certified and formaldehyde-free options.
Photo credit: Rauser Design; original photo on Houzz.
Salvaged wood floors. Why use material with recycled content when you can upcycle materials? Doing so sets the bar high for sustainability and is an opportunity to bring some history and personality to your kitchen. Salvaged beams from a 100-year-old warehouse roof were milled into tongue and groove flooring for this kitchen.
Photo credit: Three Week Kitchens; original photo on Houzz.
Other materials
Linoleum floors. Poor linoleum. Over time, it's been confused with ubiquitous and often not-so-nice sheet vinyl, when in fact the two have little in common. True linoleum is made of natural materials, including linseed oil, and is inherently antimicrobial—a pretty neat trait for a kitchen.
Linoleum is available in sheets, tiles or planks. If you're not creating a pattern with tiles, I recommend using sheets, as you'll have fewer joints and fewer places for the floor to show its age. Make sure that any adhesives are free of solvents and labeled "no-VOC."
Forbo's Marmoleum, one of the best-known linoleum sources, carries a 25-year warranty and offers more than 120 colors of sheet goods. This kitchen shows how linoleum can be an artist's canvas for color and pattern.
Photo credit: Burton Architecture; original photo on Houzz.
Cork floors. The warmth and comfort of cork underfoot makes it a great choice for the kitchen, where we often stand for long periods of time. Cork also touts a lot of green cred: It's a rapidly renewable and carefully protected resource. Every nine years, producers in Portugal and Spain strip the thin bark of cork trees into long, wide slabs, using care not to damage the tree. Wine corks are stamped out first, and the scraps are then ground and pressed to make flooring and bulletin boards, so that every bit that is harvested is used.
Cork is available in both tiles and planks. With both, I seek prefinished products with a no-VOC finish. With any prefinished tile or plank product, the vertical edges often aren't prefinished, so it's worth adding a top coat of finish after installation to protect the edges and joints.
Cork manufacturers have broadened their palettes to include pale, dark and colored options, as well as a variety of patterns.
Rubber-cork-blend floors. Cushy cork gets a new look when blended with recycled rubber, as in CapriCork's And/Or line, made with 35 percent preconsumer recycled content. The product is available in both rolls and tiles, and comes in 17 different colors, from neutral to bright shades.
Concrete floors. The ultimate multitasker, concrete floors are often both the finished floor and the structural floor too. Simplifying a complex flooring system to a single material is a smart, efficient and cost-effective solution. To green your concrete, you can increase the fly-ash content (a byproduct of coal processing), but do so only if coal is processed in your region. Otherwise, the environmental impacts of transporting the fly ash outweigh the benefits. Alternatively, consider adding recycled glass to reduce the amount of virgin aggregate used.
Terrazzo floors. Seemingly indestructible, terrazzo gets an A+ for durability, and also for its good looks. This material, made of chips of marble or granite set in concrete and polished, can score high for sustainability too if no- or low-VOC sealers and low-impact aggregates (like recycled glass) are used. Terrazzo's one shortcoming is that it can be tough to stand on for long periods of time.
Related articles