"Bringing the outdoors in" is more than just a popular interior design concept: It's a practice that also offers several life-enhancing and environmentally friendly qualities. Scientific evidence suggests that nature nurtures humans, lowers their stress hormones, reduces the incidence of disease and generally boosts heart health, metabolic health and attitude.
Here are some ways you can easily ramp up the natural vibe in your own home or apartment, so that you can live a greener life and experience these benefits.
Plants and herbs
Having live houseplants at home is an easy way to integrate nature into your residence. Make it even less stressful for yourself by bringing home plants that are simple to maintain. Succulents are almost impossible to kill, conveying the outside world to any room. Other easy-to-care-for plants include golden pothos, philodendron, rabbit's ear, cast iron plants (aspidistra) and ribbon plants (sansevieria). Any of these will produce a garden feeling, sans the stress of maintenance.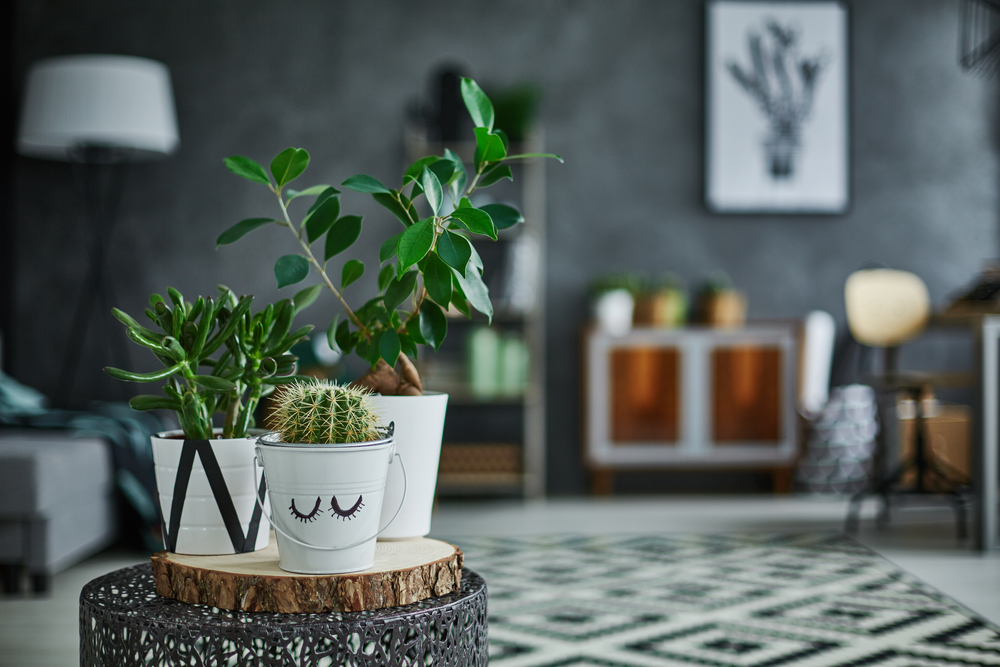 Fresh herbs are also easy to grow at home. They not only create an additional green focal point, they make good food great and may add nutritional value. Smart choices include dill, basil, thyme, oregano, rosemary and mint. Many herbs are thought to have medicinal properties. Fresh herbs are incredibly aromatic, an added benefit.
Having indoor plants also helps improve the air quality of your home. The air-cleaning properties of plants help counteract indoor air pollution that is caused by volatile organic compounds (VOCs), which are hazardous to both the environment and your health, found in many household objects from furnishings to cleaning supplies.
Organic scents
The scents of nature can bring a variety of advantages to your health and home. By using essential oils through diffusers, you can reap the benefits of common yet refreshing scents like lavender, lemon oil, peppermint and wild orange. These oils have been suggested to provide physical and mental health benefits.
These scents also have the side effect of giving your apartment a welcoming fragrance, but with a potentially better environmental impact than artificial air fresheners, as they don't release toxins into the air and are not dispensed with harmful aerosols.
Fresh air
The air you breathe has a direct impact on your health. Why not make it as fresh as the great outdoors, without pollen, dust and other allergens? Although it's important to open your windows and doors regularly to air out your home, you can also use air purifiers to make that air as clean as possible. Portable air purifiers come at all price points (and sizes and colors). Make sure your home's air is clean—without triggering the discomfort and stress of allergies or asthma.
Sounds of nature
Does falling asleep to ocean waves sound like your idea of heaven? Or would you rather listen to a thunderstorm, chirping crickets or a babbling brook? Listening to sounds of nature can relax you and improve your focus. Technology brings nature to bedtime (or anytime!) at an affordable price. With the use of portable sound machines or even a simple smartphone app, you can turn on your favorite natural sound to help you relax.
Pets
Hospitals use therapy animals for a reason: They're good for your health. Pets are comforting and stress-lowering. (Fish tanks are even attributed with life-changing powers in the practice of feng shui). As long as you don't have pet-related allergies, having an animal at home is a great natural boost to your health. A dog will also encourage you to visit the great outdoors several times a day, multiplying the benefit.
Environmentally friendly décor
Today's websites, apps and department stores make it easy to learn about the products you're buying. Choose furnishings and décor that come from organic materials, reclaimed or repurposed wood, and renewable materials like bamboo. Shop for accessories that minimize the use of plastics and toxic chemicals. This will not only benefit the environment, it will reduce the level of VOCs in your home, creating healthier air.
Whatever ways you choose to bring nature indoors, you'll enjoy gently stimulating your senses in restorative, healing ways. Calm your nervous system, decrease your stress levels and get in touch with the peace that only nature can provide, all in your own home.
A 2012 book called From the Ground Up: Innovative Green Homes, edited by Peggy Tully, documents a 2008 design competition of the same name. Competition entrants were asked to envision affordable, green single-family houses for the Near Westside neighborhood of Syracuse, New York.
Seven finalists were selected from the more than 50 entries received, and three of the finalists' designs were realized. This ideabook focuses on those three houses, which are 1,100 square feet and $150,000 each, and the lessons they offer about green residential architecture.
Photo credit Princeton Architectural Press, original photo on Houzz.
The competition targeted the Near Westside neighborhood of Syracuse for more reasons than proximity to Syracuse University. As Mark Robbins, dean of the university's School of Architecture, describes it, the "From the Ground Up competition seeks to provide another model for disinvested urban residential neighborhoods found throughout the United States through the creation of affordable green homes." Yet, as can be seen, and as Michael Sorkin picks up on in his essay in the book, the winning houses are highly individual forms that have a scale similar to existing houses in the neighborhood but stand out strongly from them.
The R-House
Architect: Architecture Research Office and Della Valle Bernheimer
Climate engineer: Transsolar
Who lives here: Maggie Maurer, a single mother of three
That's interesting: The home is built to stringent Passive House standards.
The R-House (shown next to the orange TED House, coming next) takes its name from "R-value," a unit of thermal resistance that measures the thickness of the material divided by its thermal conductivity.
This is an apt moniker, considering how the architects designed the house to meet Germany's Passivhaus (Passive House) principles: It has airtight, superinsulated exteriors with minimal thermal bridging, highly insulated windows and heat-recovery ventilators.
Photo credit Princeton Architectural Press, original photo on Houzz.
Following Passive House principles, the architects made the resulting exterior envelope 16 inches thick, with a value of R-70. From inside to outside, there's 2x6 wood framing (2x12 framing at the roof) with blown-in fiberglass insulation (drywall is mounted on the interior face of the studs, plywood on the exterior side), then EPS (foam) insulation, and finally corrugated metal siding mounted on furring strips.
Uniquely, instead of using wood studs, the walls and roof are framed with truss joists (TJI members) that are normally used as beams. Triple-glazed windows with argon filling are the last ingredient in creating a superinsulated exterior.
Windows are minimized, such that joints between window and wall assemblies are reduced. The windows are also located to take advantage of the sun (south is up on the floor plan, for reference, so the street elevation faces north), bringing as much light as possible into the double-height space that comprises almost half the house.
The architects boast that "a single mechanical unit ... quietly circulates air throughout the house," thereby reducing "electrical consumption by approximately 70 percent compared to the typical Syracuse home."
A blower door test was performed to determine the levels of air infiltration at the exterior. In the test, a fan is attached to the front door to differentiate between indoor and outdoor pressure, and an assessor walks around the building with a smoke stick to see where any gaps occur. (It's great to see such low-tech testing at a time of highly technological green building.)
The team then made fixes toward gaining Passive House certification—to date, only 52 projects in the U.S. are certified, and only two in New York state.
Photo credit Princeton Architectural Press, original photo on Houzz.
The two-bedroom, two-bath house was bought by Maggie Maurer (shown here) and her boyfriend Peter Waack. Maurer, a mother of three, is actually a Building Performance Institute–certified building analyst, meaning she is living in one of the best examples of what she devotes her working hours to.
Photo credit Princeton Architectural Press, original photo on Houzz.
The TED House
Architect: Onion Flats
Energy consulting: MaGrann Associates
Who lives here: Steven Morris and Sara O'Mahoney, a young couple who own a bicycle shop in the city
That's interesting: Onion Flats won the competition, then completely redesigned the house after taking a Passive House certification training course.
Photo credit Princeton Architectural Press, original photo on Houzz.
Like the R-House next door, the TED House is designed per Passive House standards, but that did not happen until after Onion Flats won the competition, right before the project was going in for permits, in fact.
As the architects put it, "After our Passive House training, we were embarrassed by such a wimpy shell" of R-19 in the walls and R-30 in the roof. They changed from batt insulation and R-1 windows to closed-cell spray foam, densely packed cellulose, a zip-panel air barrier, 4-inch EPS insulation, a metal panel rain screen and R-10 windows.
Photo credit Princeton Architectural Press, original photo on Houzz.
While the cost for the shell went up over their competition entry, it resulted in reduced mechanical needs. Or, as they describe it, "TED has the equivalent of a fur coat, rather than a windbreaker, standing between it and the harsh Syracuse winter." This keeps out the cold but also keeps the heat in, requiring very little heat to be generated.
The floor plans illustrate one way that Onion Flats sees the house being added to—a bedroom off the stair could turn the two-bedroom, two-bath into a three-bedroom house.
As the photo above attests, the house is striking for the dramatic three-story space that extends from the kitchen to the loft below the solar chimney that caps the house. Warm air and humidity are exhausted at the top of the house, taking care of the interior's cooling needs in the summer.
Steven Morris and Sara O'Mahoney, who own a bicycle shop in the city, purchased the house with the help of Home HeadQuarters, a housing provider that gave them down payment assistance and tax incentives. They say their house is "cheaper than our apartment was—and it's a thousand times nicer." Note the trays above the kitchen doors, where the couple is growing some food through the help of the glass transom.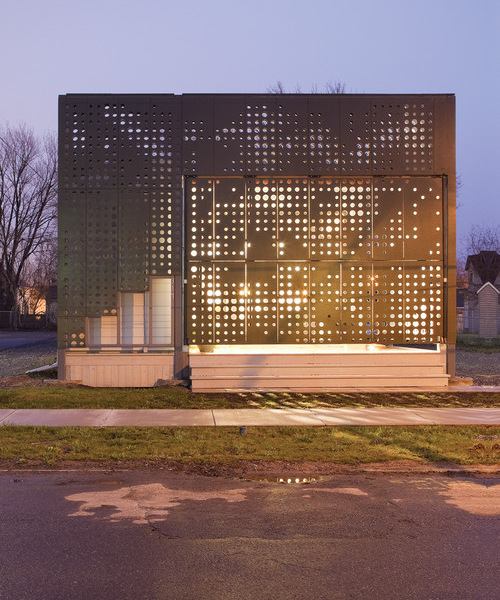 Photo credit Princeton Architectural Press, original photo on Houzz.
Live/Work/Home
Architect: Cookfox Architects
Environmental consultant: Terrapin Bright Green
Who lives here: John and Kathy Miranda, a semiretired couple
That's interesting: The home is envisioned as a mixed-use model for incorporating work into urban and suburban houses.
While a lot of modern and contemporary residential architecture is criticized for not appearing homelike, the architects of the Live/Work/Home made the conscious decision to design a house that could be mistaken for a commercial building. In their decision to integrate work into the residential program, they hope to, as they say, "attract new residents and uses, helping to repopulate the urban neighborhood."
The retractable front screen can maintain privacy and filter sunlight, but it could also serve as a means of signaling when the work portion is open for business.
Photo credit Princeton Architectural Press, original photo on Houzz.
Rather than combining parcels, as done on similar projects, the architects worked with one lot, meaning that the resulting single-story plan is a linear one. They found inspiration in vernacular longhouses, specifically the Haudenosaunee one in the Syracuse area. An external corridor extends from the front porch (previous photo) to the back porch. Hinged panels, perforated in tree-like patterns like the front facade, can be opened and closed to let in light and maintain privacy.
The plan is described by the architects as a loft, such that the main open space could be opened up entirely or, as is shown here, partitioned with casework for bedrooms.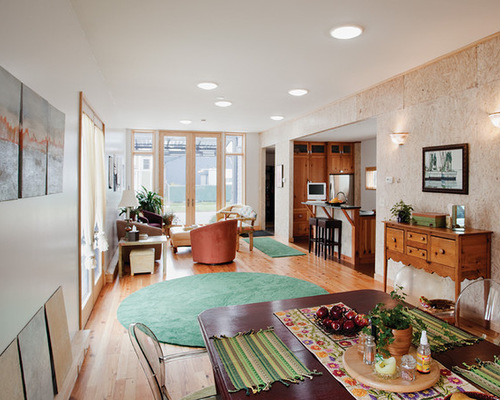 Photo credit Princeton Architectural Press, original photo on Houzz.
Keeping with the $150,000 budget, the house is finished simply. A wall faced in oriented strand board separates the loft space from the service areas—storage, kitchen, bathroom, laundry. Additional natural light enters the house through solar tubes. Their orientation across the ceiling echoes the perforated panels of the exterior.
The exterior walls behind the perforated walls are made from structurally insulated panels that combine with the insulated glass and reflective roofing to create an efficient envelope, if not as tight or superinsulated as the other two houses.
The flexible zone at the back of the loft is accommodated by sliding panels that also echo the exterior perforated screen. Note the tracks on the floor and the ceiling that allow for as much area to be open or closed as the owners want.
John and Kathy Miranda are semiretired. They bought the Live/Work/Home after living in an apartment in downtown Syracuse and love its design.
In addition to the three houses discussed here, the handsome book—part of the New City Books series—presents the other four finalists, and it includes essays by Mark Robbins and Michael Sorkin, mentioned earlier, and by architectural historian Susan Henderson.
What is most valuable about the book is the way it extends from the competition in 2008 to the recent occupancy of the houses; it doesn't limit itself to one aspect of the process. This big-picture presentation goes hand in hand with the big idea of realizing houses from a design competition whose timing coincided with the housing crisis and the doubt it created.
Related articles
You turn the faucet, and the shower head comes to life. You stand in the bathroom testing the water every few seconds until it's ready. This process isn't very efficient—for every minute that goes by, the shower is using approximately two gallons of water.
It's not just the shower. There are probably four or five times a day that you turn the hot water tap at the sink and wait for the water to run hot. Recirculating hot water is a method to make water hot right when you need it, which can save you time and conserve your water usage.
How they work
Before we talk about the environmental benefits, let's talk about plumbing. Water runs through your house in pipes, powered by electric pumps. A tank in your house heats water, either by gas or electricity (rather like a pot of water on a stovetop), and pipes it all the way to your shower.
A hot water recirculation pump.
When you turn the shower off, water sits in these pipes and becomes cold. Then, the next time you turn the shower on, all of that cold water pumps out before the hot water appears.
Circulating hot water solves this problem by keeping the water moving. Water in pipes only flows one way, so the recirculating hot water pumps the water back to the hot water heater.
What they cost
There is a trade-off in recirculating hot water. Because the pump uses electricity that you otherwise would not be using, new recirculating hot water pumps have timers that only run during typical hot water use times of the day.
These pumps run about $200, and if you're handy, you can install it yourself. It's possible to save up to 10,000 gallons of water per year, depending on the size of your household and your water use.
SaveOnEnergy's article "Energy Saving Hacks That Americans Aren't Using" shares tips and statistics on how saving energy can save you money, from seam-sealing to unplugging items when they're not in use. Also, you'll see results of the company's survey of what saving strategies homeowners are currently using.
If someone offered you $100 for simply unplugging something when you weren't using it, would you do it?
Although appliances and lighting options are now held to more strict guidelines, many Americans are still using old, inefficient models in their home. This leads to wasted energy and money. Every year, the average American spends $1,460 on electricity and $421 on natural gas. And with prices for electricity predicted to rise about 2 percent each year through 2018, the energy changes we make within our homes can make a big difference.
Image credit: SaveOnEnergy.com.
Eco-friendly choices are incredibly important these days—but it can certainly feel like information overload at times. From smart home technology that monitors your energy to "upcycling" projects to deciding on a kitchen floor, there's a lot to consider when you go green.
To simplify things a bit, we've put together a guide that walks you room by room through an eco-conscious home—in part directly from the mouths of our customers and followers. With these tips, you too can become the "hero" of your house, saving energy and reducing your household bills at the same time. Here are a few ideas to get you started:
Kitchen
Your kitchen is likely one of the most energy-hungry rooms in the house, thanks to big appliances like your refrigerator, oven and dishwasher. Let's focus on that last one, your dishwasher. When it's time to replace this appliance, make sure to purchase an Energy Star-certified model for a big impact; a new Energy Star dishwasher will save an average of 3,870 gallons of water over its lifetime. Some models may also incorporate tech innovations such as soil sensors, which test how dirty dishes are and adjust the cycle accordingly, or energy-efficient jets.
Bathroom
The bathroom is another troublesome area of the house, especially if you have several family members rotating showers, teeth brushing and hand washing. One easy way to lower your energy bills in the bathroom is to lower the thermostat on your water heater: For every 10 degrees you reduce the temperature, you can save three to five percent on your bill.
Bedroom
We're in the height of the summer now, and keeping your bedroom cool can be a chore. Do you rely on air conditioning? Instead, consider the energy-saving alternatives. Using a ceiling fan, for example, typically costs only one cent per day, and can make your room feel three to eight degrees cooler. Other ideas: try closing your bedroom doors and investing in a pedestal fan, or use a portable AC unit at night, allowing you to turn off the central air.
Living room
The living room is another place in our home that may have several electrical devices running at once. The biggest tip here is a simple one: get a surge protector! That way, it's an easy switch to power down everything at once when you leave the house, helping you to conserve electricity. "Vampire" energy, after all, costs consumers in the United States more than $3 billion a year.
Home office
Computers and laptops and modems, oh my! How do you stay connected and productive in an energy-efficient home? Setting your computer to sleep/hibernate mode is a great way to use less electricity during inactivity; Energy Star estimates that using this feature can save you up to $30 annually on your electricity bill.
Exterior
Getting creative about the plants and trees around your home can also make a difference in your energy use. Planting deciduous trees (the type that sheds their leave seasonally) on the west side of your home, for example, will maximize shade to keep your home cooler in the summer. Doing so can reduce your air conditioning costs up to 30 percent, according to the National Arbor Day Foundation.
We hope these tips helps simplify some of the most powerful eco-friendly choices you can make. Want to learn more? Check out StarTex Power's interactive graphic below to explore additional energy-efficient tips around the house.
Whether you want a grandiose wraparound deck surrounding your home, a cozy little platform deck outside of the kitchen, or a modern pool deck, your choice of decking material will impact its life span and maintenance needs. Nearly everyone will agree that the less care needed, the better.
Here are six common materials for low-maintenance decking.
Composite decking
Composite decking requires less maintenance than natural wood, as these boards are made of a mix of wood fibers and plastics. It doesn't need restaining or sealing, and it comes in different colors and faux wood grains.
Although not very high-maintenance, composite decking can be prone to warping in heat, and its surface can get hot in the sun, if you like to be barefoot on your deck. It can be an eco-conscious choice because many brands use recycled wood and plastic in their products. It is important to carefully vet a prospective brand prior to purchase, as there are some composite decking manufacturers that do not use recycled products.
Fiber cement decking
Finding real wood composites that actually look real is difficult. This is where fiber cement decking comes into play. It is less prone to crumbling or rot than composite, and you will find extremely realistic wood grain options. This is especially true with premium manufacturers.
The downside of fiber cement is the price and installation. Due to the potential for silica dust, this is not a material for DIYers and must be installed by professionals. However, it is still a nice choice for a faux wood deck that needs relatively little care.
As with composite decking, there are certain manufacturers that make green products. Fiber cement is a more eco-conscious material compared to pure plastics like vinyl, with the most responsible manufacturers using raw materials that are sustainably gathered and don't affect old-growth forests.
Pressure-treated wood
PT wood remains one of the most popular types of decking. It is easy to source, relatively inexpensive compared to other materials, and is particularly inviting for do-it-yourselfers. When it comes to real wood decking, it is one of the better options for the value.
While it may be a common decking material and relatively low-maintenance compared to untreated woods, PT wood does require some upkeep. It needs to be cleaned regularly and restained/resealed every few years. PT wood also has to be disposed of very carefully, as it is not recyclable.
Aluminum decking
If your only concern with a deck is something strong that will last for decades and rarely needs upkeep, then aluminum could be an option. Aluminum can essentially handle every type of weather, though the powder coating may fade over time with sun exposure. It's not as soundproof as other materials, though, and may be more expensive.
This material is very eco-friendly, as it contains no harsh chemicals and emits no VOCs, even during installation. It can be recycled, but you won't need to worry about that for a long time, because it is also extremely durable.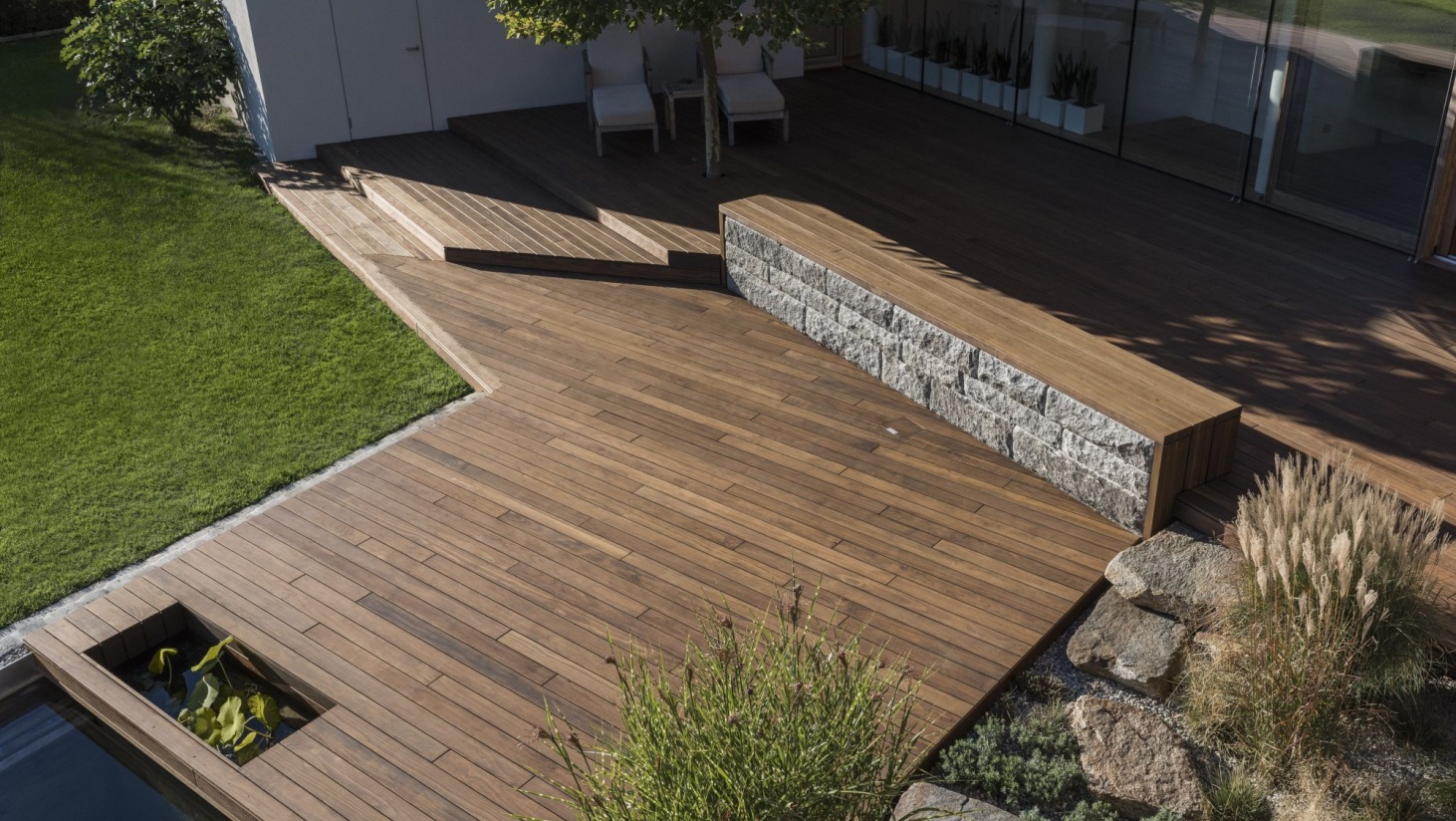 Modified wood
Modified wood is an ideal choice for those who love the classic look of wood, but do not have the time to keep up a traditional wood deck. Modified wood is treated with heat or chemicals to greatly increase durability and longevity, while minimizing staining and resealing needs. It is smooth and comfortable to walk on, but still performs well in a range of climates. This substance can also function as wood siding for those who prefer a cohesive look between the exterior of the home and the deck.
Modified wood is free of the chemicals used in PT wood and is more long-lasting. The wood is gathered from sustainable sources and can be composed of recycled materials, similarly to composite decks—minus the plastic splinters and heat of composite.
A deck not only increases the value of your house, but also increases how much enjoyment you get from your home. It offers a place for loved ones to gather and a comfortable area for entertaining, summer barbecues and relaxation after a long day.
To make an environmentally sound decking choice, be sure to take into account responsible sourcing, shipping distance, your particular climate and the product's life cycle, as well as your aesthetic.
This article was originally published on Houzz on February 3, 2012, as "Cork Flooring 101: Warm Up to a Natural Wonder," and is presented here with permission. Read the original article.
Although cork floors have soared in popularity over the past decade or so, they've been kicking around for more than a century. Back in the early days, cork appeared mostly in commercial and public spaces, although residential use increased after Frank Lloyd Wright chose it for many of the homes he designed.
Its popularity hit a peak in the 1960s and '70s but waned until the 2000s, when its retro appeal and sustainable nature made it a design darling. Wondering whether to jump on the bandwagon? Read on for more about the pros, cons and special considerations.
Photo: RoehrSchmitt Architecture; original photo on Houzz.
The basics
Natural cork comes from the bark of cork trees, found mainly in southern Europe and northern Africa. Scraps of bark left over from punched-out bottle stoppers are ground, pressed and baked into sheets that are ready to convert into floor planks and tiles. Portugal is the epicenter of the cork industry and accounts for more than half the world's production.
What you'll love
If you've ever noticed how fast a wine cork pops back into shape when it's released from the bottle, you have a good idea of how springy and flexible cork is. Its shock-absorbent structure translates to comfort underfoot—a real boon in spots where you spend long periods standing, such as in a kitchen or home gym. (That also means dropped glassware or china has less chance of shattering.) Plus, it holds warmth and muffles sound like a champ.
Cork also has serious green cred. The trees gradually regenerate their bark after it's harvested, and the harvesting process itself is strictly regulated in order to keep damage minimal. Because the trees can live between one and two centuries, cork is a long-term renewable resource. And if there's an allergy sufferer in your home, it's a dream material: It doesn't accrue dust and contains suberin, a natural substance that fends off mold, mildew, rot and pests.
Fans of cork adore its natural variations in tone and texture, which create a richness and depth that even the best manufacturers can't replicate. If you'd rather go bold, cork can be dyed or stained any shade that suits your fancy.
Photo: Case Design/Remodeling Inc; original photo on Houzz.
What to consider
Although cork is durable, be prepared to put in some maintenance. Crumbs, dirt and other detritus can scar its surface over time, so don't go more than a week without sweeping or vacuuming. Cork also needs to be resealed with protective coats of polyurethane every few years. Alternatively, you can seal it with wax, which is less likely to scratch, but must be stripped and reapplied more frequently. Some cork flooring comes prefinished, although it still will need periodic doctoring to keep it in shape.
Cork can bounce back from small nicks, but major dings—for example, sliding a table across the floor and taking a chunk of cork with it—are tougher to fix. Furniture eventually will leave permanent dents unless you place it on protective coasters to offset the pressure. As with carpeting, sunlight will fade it over time.
Also, cork doesn't always work well in damp areas. Although its natural waxiness repels moisture, standing water can permeate the joints and cause damage. If you really want cork in a bathroom, basement or laundry area, it's worth consulting with a pro about how to ward off water leakage and infiltration.
Photo: Reaume Construction & Design, original photo on Houzz.
Installation
Most cork flooring comes in one of two forms: planks or tiles. Planks can either be solid cork or engineered laminate-style (cork veneer with a fiberboard core). They're available in glue-down or "floating" applications—the latter locks together at the edges and sits right on top of any smooth surface, which makes it especially DIY-friendly. Avoid engineered planks in moisture-prone areas; they're likely to warp.
Tiles, made from solid cork, generally are glued to a subfloor. Installation isn't difficult, but it can take a fair amount of prep work to get the underlying surface in shape.
If you're opposed to the look of seams, or you want custom-cut shapes and designs, cork is also sold in sheets. However, installation gets much trickier, so you may need the help of a pro.
What you'll pay
Cork isn't inexpensive, exactly, but it's manageable on a budget. The price tag falls roughly between $2 and $12 per square foot, uninstalled (professional installation generally adds $3-5 per square foot to the total). Don't skimp on quality—cheap, lower-density cork flooring won't hold up in the long run.
Photo: Globus Cork; original photo on Houzz.
Resources
For more information about cork flooring and where to buy it, visit the World Floor Covering Association or the Portugese Cork Association.
Related articles
Communities that implement environmentally friendly practices to meet the needs of their residents are commonly known as green communities. These communities work to protect future generations from land, air and water pollution while reducing their carbon footprint. Major components include creating livable and walkable neighborhoods with multiple transit options, green spaces and sustainable infrastructure elements.
Enacting sustainability practices into your community is easier than you may think, and the benefits for both this generation and the next make the endeavor worthwhile.
What a green community can do for your family
Why should you be the voice for a green community? Residents can benefit from the energy-efficient methods to save money on their utility bills, specifically electric and gas. This can include using solar panels to power homes to avoid burning fossil fuels.
In your own home, choose energy-efficient machines, such as those certified by Energy Star, when shopping for major appliances, and consider investing in solar panels. The initial investment may be higher, but your family will save money annually in energy costs. Combine this tactic with insulation made from sustainable or recyclable materials, and your energy consumption and costs may lower even more. As more homes save energy, it lowers the carbon footprint of the whole community.
Green communities rely on biodegradable and recyclable materials for buildings, playgrounds and insulation. They incorporate compost for fertilizer and community gardens to feed residents. By planting trees, vegetables and flowers, the community benefits from an oxygen-rich atmosphere and pesticide-free food. Children can learn gardening skills and the importance of contributing scraps into a communal compost heap.
Also, communities choose to use vendors and manufacturers who practice sustainability to reduce greenhouse gas emissions and other chemicals during the manufacturing process. This is important for specific structures, such as playgrounds, to ensure safety in the neighborhood.
How you can get involved in the community
Your community can aspire to become a green community by seeking LEED certification. LEED for Neighborhood Development (LEED ND) can assist you in marketing and funding a green project to financiers, public officials and others. You can also apply for LEED certification if your project is close to completion or was finished in the last three years.
The EPA provides a guide to homeowners, builders, neighborhood groups, utility companies and organizations to assist in green infrastructure planning. Published in 2014, the guide suggests steps you can take including organizing stakeholders, developing a community vision and establishing goals.
Get further involved in your community by volunteering to create and maintain a community garden and compost heap. The scraps will benefit the garden as fertilizer, and your family won't have to worry about chemicals in the produce.
Whether you are a homeowner or a contractor, you can use these green tactics to improve and grow your community for generations to come.
We all know that clutter isn't a good thing. We've read articles about how a cluttered space can affect our moods or make allergies worse. As if that weren't incentive enough to get rid of all the extra stuff, there's another great reason: Clutter is bad for the environment.
Consume less, fill less space
Often, discussions about climate change and "going green" center on the concept of your carbon footprint, or the overall impact that your daily activities have on the environment. The more fossil fuels you use, the higher your carbon footprint. And it's not just our cars that use fuels, either. Fossil fuels are used to create electricity to power appliances, as well as create the items we use every day—and the items that we don't actually use, the ones that form clutter.
It's not only the manufacturing of items that affects your carbon footprint, either. When your home is filled with clutter, it can actually be less energy-efficient. When furniture, boxes and other items block vents or windows, you may consume more energy, as your heating and cooling systems will have to work harder. Not to mention, when your windows and doors are blocked by "stuff," you're less likely to keep them maintained, meaning that you could be letting cold or warm air out and increasing energy usage.
We all have a responsibility to work together to reduce harmful greenhouse gases and protect the Earth, and a good place to start is by clearing out your clutter. Fortunately, it's easy to do, and you'll have a healthier home in the process.
Reduce, reuse, recycle
As you clear out the clutter, your first instinct might be to throw away things that you don't need, but before you do, consider whether you could recycle or donate them instead. Old electronics, for example, should not be thrown away because they can leech harmful chemicals into the soil, so it all should be donated or delivered to an electronics recycling center, which will appropriately dispose of the items.
Clothing, toys and household items are obvious candidates for donation, but you can also donate larger items such as boats and cars. In fact, older vehicles can be harmful to the environment in many ways, so donating them to be properly disposed of or restored reduces your footprint in several ways. If you have older equipment such as lawn mowers or snow blowers taking up space in your garage, look for programs that will allow you to trade them in for newer, more efficient models.
Recycling your clutter will also reduce your footprint. You might be surprised at what your local recycling center will accept. Paper, metal, glass and cardboard can all be recycled. At the same time, commit to reducing your consumption of these items. Look for products with less packaging, buy in bulk or bring your own reusable containers to limit the resources you use and the clutter that you bring into your home.
Keeping your home clutter-free requires thoughtfully considering your purchases and thinking about what you need. Whenever possible, borrow items that you will only use once, and look for local, sustainable products. Not only will you have a cleaner, more organized home, but the Earth will thank you.
A new study from The University of Texas at Austin and USGBC found that new homes in the Austin-Round Rock Metropolitan Statistical Area (Austin-Round Rock MSA) built to meet green building standards such as LEED are worth an average of $25,000 more in resale value than conventional homes.
According to the study, homes built to LEED standards between 2008 and 2016 showed an 8 percent boost in value, while homes built to a wider range of green standards saw only a 6 percent increase in value. In the Austin-Round Rock single-family home market, a 6 to 8 percent "green premium" can be a major gain for those selling their homes, as well as developers and real estate agents.
Based on an analysis of more than 230,000 homes in the area, it was determined that the 3,800 green-certified homes (LEED and other green rating systems) delivered the extra 6 to 8 percent resale value.
The LEED Homes rating system was created in 2008 as a way for single-family homes and multi-family buildings to achieve LEED certification. Nationwide, the residential green construction market is expected to grow from $55 million in 2015 to $100.4 million in 2018, representing a year-over-year growth of 24.5 percent. Currently, there are more than 6,890 homes certified or pursuing LEED certification in Texas alone.