Low-maintenance green decking materials
Whether you want a grandiose wraparound deck surrounding your home, a cozy little platform deck outside of the kitchen, or a modern pool deck, your choice of decking material will impact its life span and maintenance needs. Nearly everyone will agree that the less care needed, the better.
Here are six common materials for low-maintenance decking.
Composite decking
Composite decking requires less maintenance than natural wood, as these boards are made of a mix of wood fibers and plastics. It doesn't need restaining or sealing, and it comes in different colors and faux wood grains.
Although not very high-maintenance, composite decking can be prone to warping in heat, and its surface can get hot in the sun, if you like to be barefoot on your deck. It can be an eco-conscious choice because many brands use recycled wood and plastic in their products. It is important to carefully vet a prospective brand prior to purchase, as there are some composite decking manufacturers that do not use recycled products.
Fiber cement decking
Finding real wood composites that actually look real is difficult. This is where fiber cement decking comes into play. It is less prone to crumbling or rot than composite, and you will find extremely realistic wood grain options. This is especially true with premium manufacturers.
The downside of fiber cement is the price and installation. Due to the potential for silica dust, this is not a material for DIYers and must be installed by professionals. However, it is still a nice choice for a faux wood deck that needs relatively little care.
As with composite decking, there are certain manufacturers that make green products. Fiber cement is a more eco-conscious material compared to pure plastics like vinyl, with the most responsible manufacturers using raw materials that are sustainably gathered and don't affect old-growth forests.
Pressure-treated wood
PT wood remains one of the most popular types of decking. It is easy to source, relatively inexpensive compared to other materials, and is particularly inviting for do-it-yourselfers. When it comes to real wood decking, it is one of the better options for the value.
While it may be a common decking material and relatively low-maintenance compared to untreated woods, PT wood does require some upkeep. It needs to be cleaned regularly and restained/resealed every few years. PT wood also has to be disposed of very carefully, as it is not recyclable.
Aluminum decking
If your only concern with a deck is something strong that will last for decades and rarely needs upkeep, then aluminum could be an option. Aluminum can essentially handle every type of weather, though the powder coating may fade over time with sun exposure. It's not as soundproof as other materials, though, and may be more expensive.
This material is very eco-friendly, as it contains no harsh chemicals and emits no VOCs, even during installation. It can be recycled, but you won't need to worry about that for a long time, because it is also extremely durable.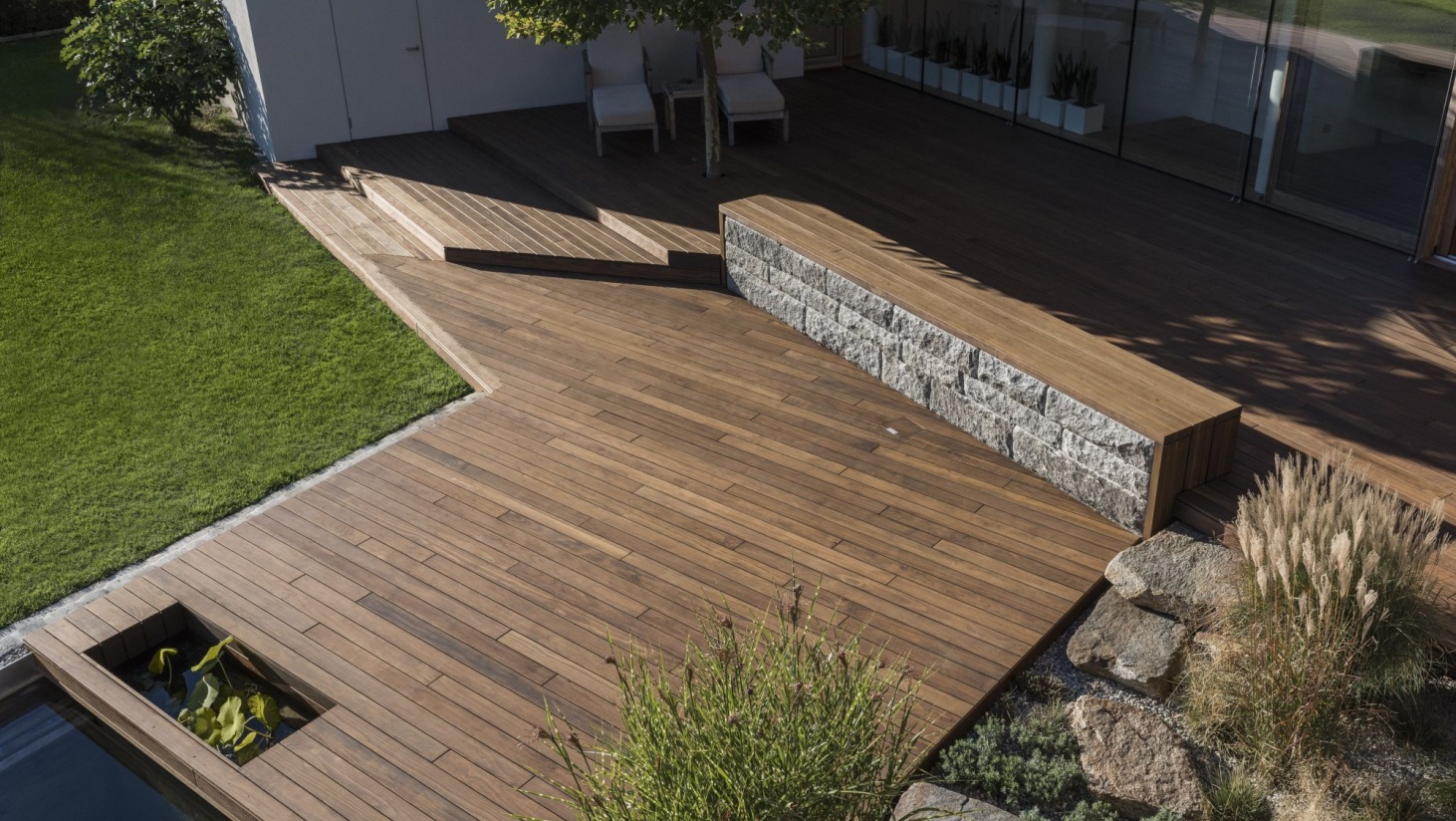 Modified wood
Modified wood is an ideal choice for those who love the classic look of wood, but do not have the time to keep up a traditional wood deck. Modified wood is treated with heat or chemicals to greatly increase durability and longevity, while minimizing staining and resealing needs. It is smooth and comfortable to walk on, but still performs well in a range of climates. This substance can also function as wood siding for those who prefer a cohesive look between the exterior of the home and the deck.
Modified wood is free of the chemicals used in PT wood and is more long-lasting. The wood is gathered from sustainable sources and can be composed of recycled materials, similarly to composite decks—minus the plastic splinters and heat of composite.
A deck not only increases the value of your house, but also increases how much enjoyment you get from your home. It offers a place for loved ones to gather and a comfortable area for entertaining, summer barbecues and relaxation after a long day.
To make an environmentally sound decking choice, be sure to take into account responsible sourcing, shipping distance, your particular climate and the product's life cycle, as well as your aesthetic.