How tech can help you monitor your indoor air quality
This article was originally published on Houzz on November 21, 2017, as "How Tech Can Help You Understand Your Home's Air," and is presented here with permission. Read the original article.
Research has shown that the air inside our home can be more polluted than the air outside, according to the Environmental Protection Agency. Pollution takes a toll on our health, and because we spend a lot of our time—up to 90 percent—indoors, it's worth taking a look at the air quality in our homes. The source of these pollutants ranges from oil and gas to furniture and building materials.
Photo credit: Awair. Original photo on Houzz.
Why measure indoor air quality?
Pollution continues to be a large health risk today, says Christina Dean, technical service and applications manager at Brenntag North America, and the public is feeling the effects of pollution in one or more aspects of their lives.
"Working in an industry as carefully orchestrated as the chemical management and distribution one makes you really mindful of how important it is to minimize your exposure to potential contaminants and airborne particles," Dean says.
"Air pollution can cause skin dehydration, premature aging, sensitivity and a depletion of antioxidants," she says. "While we like to think that air pollution is an outside-the-home problem, the fact is that pollution and particulate matter can be tracked indoors too."
To address this issue, many consumers are turning to technology to monitor the air quality inside their homes.
Using modern technology to monitor pollutants
If you're interested in the pollutant levels inside your home, technology can help. Whether you want a basic device that displays your indoor air quality in easy-to-read numbers, or a more complex system that provides graphic charts and historical comparisons, there's something for everyone on the market.
In the emerging market of home indoor air quality monitors, competition between brands and devices pushes the companies to improve their products, says Indoor Air Quality Association President John Lapotaire. The improvements can be seen in smaller monitors that work better in the home, and in the reliability of the monitors themselves.
"The homeowner equipped with any one of these monitors can have a good idea of the quality of their indoor air and be notified if there are any changes within their indoor environment without the need of a professional," he says. "For many, that ability is a game-changer and well worth the investment."
This is possible because of huge strides made in the consumer-grade indoor air-quality industry, Lapotaire says. That being said, a professional-grade device will be more reliable and comprehensive.
5 indoor air-quality monitoring devices for consumers
1. Awair uses built-in sensors that indicate and track toxin levels within indoor air. It then displays this information on the unit itself or transmits it through the internet, so the information can be ready from nearly any smartphone or computer that can access the internet.
It works by tracking five facets of air quality: humidity, temperature, dust, carbon dioxide (CO2) and chemicals.
Photo credit Awair. Original photo on Houzz.
The results are easy to view on the built-in display (shown here) or via the Awair app, which was developed in tandem with professionals from the Mayo Clinic to offer proven strategies for improving the quality of your indoor air.
Awair also designed its display unit with a wood frame to help it blend into your home's design.
2. Sprimo is a personal air monitor that has built-in sensors to determine toxicity levels in the air around you.
It transmits this information to an integrated smartphone app that uses multiple methods, including colors and numbers, to give you a visual confirmation of the toxin levels in your home or office.
Photo credit: Sprimo. Original photo on Houzz.
Touted as the world's smallest air monitor, the Sprimo device is tinier than the average house key, but it packs a powerful punch.
Not only does it monitor indoor air for pollen, dust, smoke and other toxins, but it can pick up on odor from paint, outdoor air pollution, chemical cleaners, garbage, pet waste and even your dirty clothes, and display their toxicity levels in a brightly colored, easy-to-read graphic.
Sprimo is also easy to use: Plug the device into your compatible smartphone, and you can begin monitoring your indoor air quality immediately.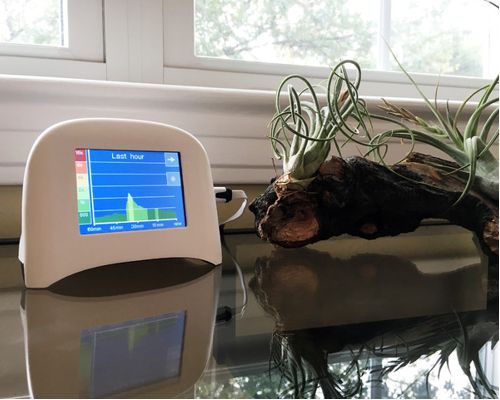 Photo credit: Speck. Original photo on Houzz.
3. Speck uses integrated sensors that detect fine particulate matter within the air around you.
This information is displayed on a large screen on the device itself, but it can also be viewed remotely via the app.
Though all of the products on this list are easy to set up and use, Speck is one of the simplest. Just plug the device into a power source, and the unit begins monitoring—and reporting—your air quality.
Users can see the information directly on the device, or via the internet and Speck's free software package. The built-in Wi-Fi functionality even lets you track data from anywhere with a laptop computer or smartphone.
Photo credit: uHoo. Original photo on Houzz.
4. uHoo detects toxins through a series of advanced sensors that are built into its cylindrical design. Separate sensors exist for chemicals, dust and temperature.
Whereas most of these devices only monitor a few different toxins, uHoo tracks nine: temperature, humidity, PM2.5, volatile organic compounds, carbon dioxide, carbon monoxide, nitrogen dioxide, ozone and air pressure.
Not only does the device let you view this information as it collects it in real time, but uHoo also provides automated reports when your indoor air quality reaches dangerous or hazardous levels.
It also keeps track of historical data, so you can compare levels in different rooms of your house during different seasons or after you've made home improvements.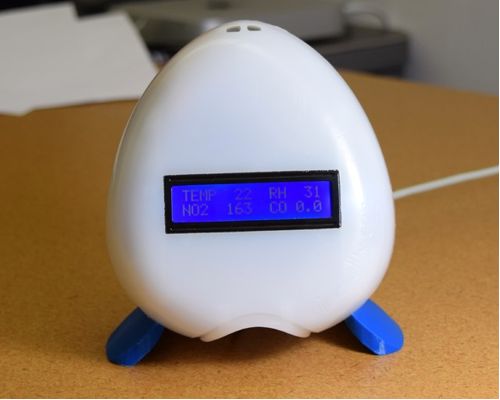 Photo credit: The Egg. Original photo on Houzz.
5. The Egg has built-in sensors that provide real-time readings and are automatically uploaded to the internet.
Pioneered by the development team at Wicked Device, the Egg also features a smartphone app and a dedicated, web-based dashboard to monitor your levels and compare them with others.
Integrated Wi-Fi functionality lets you upload data for historical tracking and long-term analysis.
Apart from its sleek design, the Egg monitors your air quality for six different pollutants: carbon monoxide, volatile organic compounds, CO2, sulfur dioxide, fine particulates and nitrogen dioxide.
Next steps
You can also use the resources provided on the Indoor Air Quality Assocation website to further explore indoor air quality issues, or find a professional who can help you with any air quality issues you're experiencing.
Related links