Be part of the growth of sustainable energy in America: Top 5 tips
Recently released data from the 2017 Sustainable Energy in America Factbook, published by the Business Council for Sustainable Energy (BCSE), shows that energy savings for consumers have been increasing with the growth in green energy sources. As a member of the BSCE, USGBC detailed some of the findings from this research, developed by Bloomberg New Energy Finance.
According to the report, in 2016 U.S. consumers spent less than 4 percent of their overall household spending on energy—the lowest number ever. Green technologies like wind and solar power have increased sixfold in the past decade, and renewable energy now forms 22 percent of our power sources nationwide.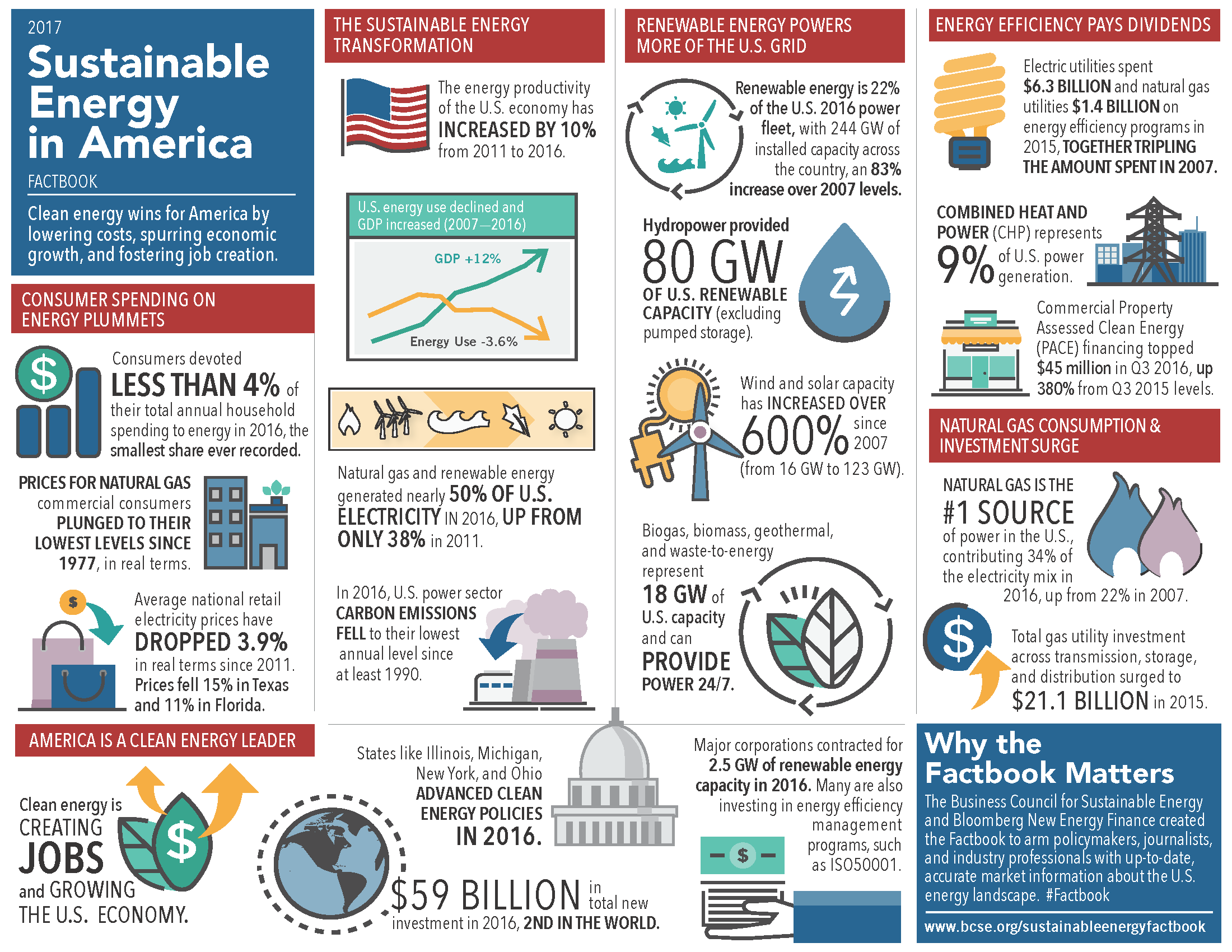 Infographic: Business Council for Sustainable Energy Factbook.


Sustainable energy is the future. Here are the top five ways you can benefit from including it in your lifestyle and home:
1) Reduce your reliance on fossil fuels by driving an alternative-fuel vehicle. Electric cars save you money at the pump while also producing less pollution. Better yet, ride a bike, walk or take public transportation—there are many options to suit your lifestyle.
2) Take advantage of the sun's power with solar energy. Solar panels or thermal collectors can help you convert sunlight into electricity or heat, reducing your utility bills.
3) Get an energy audit before making renovations or home improvements, to see what your baseline is and get tailored recommendations for ways to enhance your property's energy efficiency.
4) Install Energy Star appliances. Machines with this seal of approval require less energy to operate. Refrigerators, washing machines, dryers and dishwashers are some of the items you can use to reduce your footprint.
5) Choose more efficient lighting. CFL and LED light bulbs use a lot less energy than incandescents. And while you're at it, make sure to remember to turn those lights off when you leave the room.