You turn the faucet, and the shower head comes to life. You stand in the bathroom testing the water every few seconds until it's ready. This process isn't very efficient—for every minute that goes by, the shower is using approximately two gallons of water.
It's not just the shower. There are probably four or five times a day that you turn the hot water tap at the sink and wait for the water to run hot. Recirculating hot water is a method to make water hot right when you need it, which can save you time and conserve your water usage.
How they work
Before we talk about the environmental benefits, let's talk about plumbing. Water runs through your house in pipes, powered by electric pumps. A tank in your house heats water, either by gas or electricity (rather like a pot of water on a stovetop), and pipes it all the way to your shower.
A hot water recirculation pump.
When you turn the shower off, water sits in these pipes and becomes cold. Then, the next time you turn the shower on, all of that cold water pumps out before the hot water appears.
Circulating hot water solves this problem by keeping the water moving. Water in pipes only flows one way, so the recirculating hot water pumps the water back to the hot water heater.
What they cost
There is a trade-off in recirculating hot water. Because the pump uses electricity that you otherwise would not be using, new recirculating hot water pumps have timers that only run during typical hot water use times of the day.
These pumps run about $200, and if you're handy, you can install it yourself. It's possible to save up to 10,000 gallons of water per year, depending on the size of your household and your water use.
SaveOnEnergy's article "Energy Saving Hacks That Americans Aren't Using" shares tips and statistics on how saving energy can save you money, from seam-sealing to unplugging items when they're not in use. Also, you'll see results of the company's survey of what saving strategies homeowners are currently using.
If someone offered you $100 for simply unplugging something when you weren't using it, would you do it?
Although appliances and lighting options are now held to more strict guidelines, many Americans are still using old, inefficient models in their home. This leads to wasted energy and money. Every year, the average American spends $1,460 on electricity and $421 on natural gas. And with prices for electricity predicted to rise about 2 percent each year through 2018, the energy changes we make within our homes can make a big difference.
Image credit: SaveOnEnergy.com.
Eco-friendly choices are incredibly important these days—but it can certainly feel like information overload at times. From smart home technology that monitors your energy to "upcycling" projects to deciding on a kitchen floor, there's a lot to consider when you go green.
To simplify things a bit, we've put together a guide that walks you room by room through an eco-conscious home—in part directly from the mouths of our customers and followers. With these tips, you too can become the "hero" of your house, saving energy and reducing your household bills at the same time. Here are a few ideas to get you started:
Kitchen
Your kitchen is likely one of the most energy-hungry rooms in the house, thanks to big appliances like your refrigerator, oven and dishwasher. Let's focus on that last one, your dishwasher. When it's time to replace this appliance, make sure to purchase an Energy Star-certified model for a big impact; a new Energy Star dishwasher will save an average of 3,870 gallons of water over its lifetime. Some models may also incorporate tech innovations such as soil sensors, which test how dirty dishes are and adjust the cycle accordingly, or energy-efficient jets.
Bathroom
The bathroom is another troublesome area of the house, especially if you have several family members rotating showers, teeth brushing and hand washing. One easy way to lower your energy bills in the bathroom is to lower the thermostat on your water heater: For every 10 degrees you reduce the temperature, you can save three to five percent on your bill.
Bedroom
We're in the height of the summer now, and keeping your bedroom cool can be a chore. Do you rely on air conditioning? Instead, consider the energy-saving alternatives. Using a ceiling fan, for example, typically costs only one cent per day, and can make your room feel three to eight degrees cooler. Other ideas: try closing your bedroom doors and investing in a pedestal fan, or use a portable AC unit at night, allowing you to turn off the central air.
Living room
The living room is another place in our home that may have several electrical devices running at once. The biggest tip here is a simple one: get a surge protector! That way, it's an easy switch to power down everything at once when you leave the house, helping you to conserve electricity. "Vampire" energy, after all, costs consumers in the United States more than $3 billion a year.
Home office
Computers and laptops and modems, oh my! How do you stay connected and productive in an energy-efficient home? Setting your computer to sleep/hibernate mode is a great way to use less electricity during inactivity; Energy Star estimates that using this feature can save you up to $30 annually on your electricity bill.
Exterior
Getting creative about the plants and trees around your home can also make a difference in your energy use. Planting deciduous trees (the type that sheds their leave seasonally) on the west side of your home, for example, will maximize shade to keep your home cooler in the summer. Doing so can reduce your air conditioning costs up to 30 percent, according to the National Arbor Day Foundation.
We hope these tips helps simplify some of the most powerful eco-friendly choices you can make. Want to learn more? Check out StarTex Power's interactive graphic below to explore additional energy-efficient tips around the house.
Whether you want a grandiose wraparound deck surrounding your home, a cozy little platform deck outside of the kitchen, or a modern pool deck, your choice of decking material will impact its life span and maintenance needs. Nearly everyone will agree that the less care needed, the better.
Here are six common materials for low-maintenance decking.
Composite decking
Composite decking requires less maintenance than natural wood, as these boards are made of a mix of wood fibers and plastics. It doesn't need restaining or sealing, and it comes in different colors and faux wood grains.
Although not very high-maintenance, composite decking can be prone to warping in heat, and its surface can get hot in the sun, if you like to be barefoot on your deck. It can be an eco-conscious choice because many brands use recycled wood and plastic in their products. It is important to carefully vet a prospective brand prior to purchase, as there are some composite decking manufacturers that do not use recycled products.
Fiber cement decking
Finding real wood composites that actually look real is difficult. This is where fiber cement decking comes into play. It is less prone to crumbling or rot than composite, and you will find extremely realistic wood grain options. This is especially true with premium manufacturers.
The downside of fiber cement is the price and installation. Due to the potential for silica dust, this is not a material for DIYers and must be installed by professionals. However, it is still a nice choice for a faux wood deck that needs relatively little care.
As with composite decking, there are certain manufacturers that make green products. Fiber cement is a more eco-conscious material compared to pure plastics like vinyl, with the most responsible manufacturers using raw materials that are sustainably gathered and don't affect old-growth forests.
Pressure-treated wood
PT wood remains one of the most popular types of decking. It is easy to source, relatively inexpensive compared to other materials, and is particularly inviting for do-it-yourselfers. When it comes to real wood decking, it is one of the better options for the value.
While it may be a common decking material and relatively low-maintenance compared to untreated woods, PT wood does require some upkeep. It needs to be cleaned regularly and restained/resealed every few years. PT wood also has to be disposed of very carefully, as it is not recyclable.
Aluminum decking
If your only concern with a deck is something strong that will last for decades and rarely needs upkeep, then aluminum could be an option. Aluminum can essentially handle every type of weather, though the powder coating may fade over time with sun exposure. It's not as soundproof as other materials, though, and may be more expensive.
This material is very eco-friendly, as it contains no harsh chemicals and emits no VOCs, even during installation. It can be recycled, but you won't need to worry about that for a long time, because it is also extremely durable.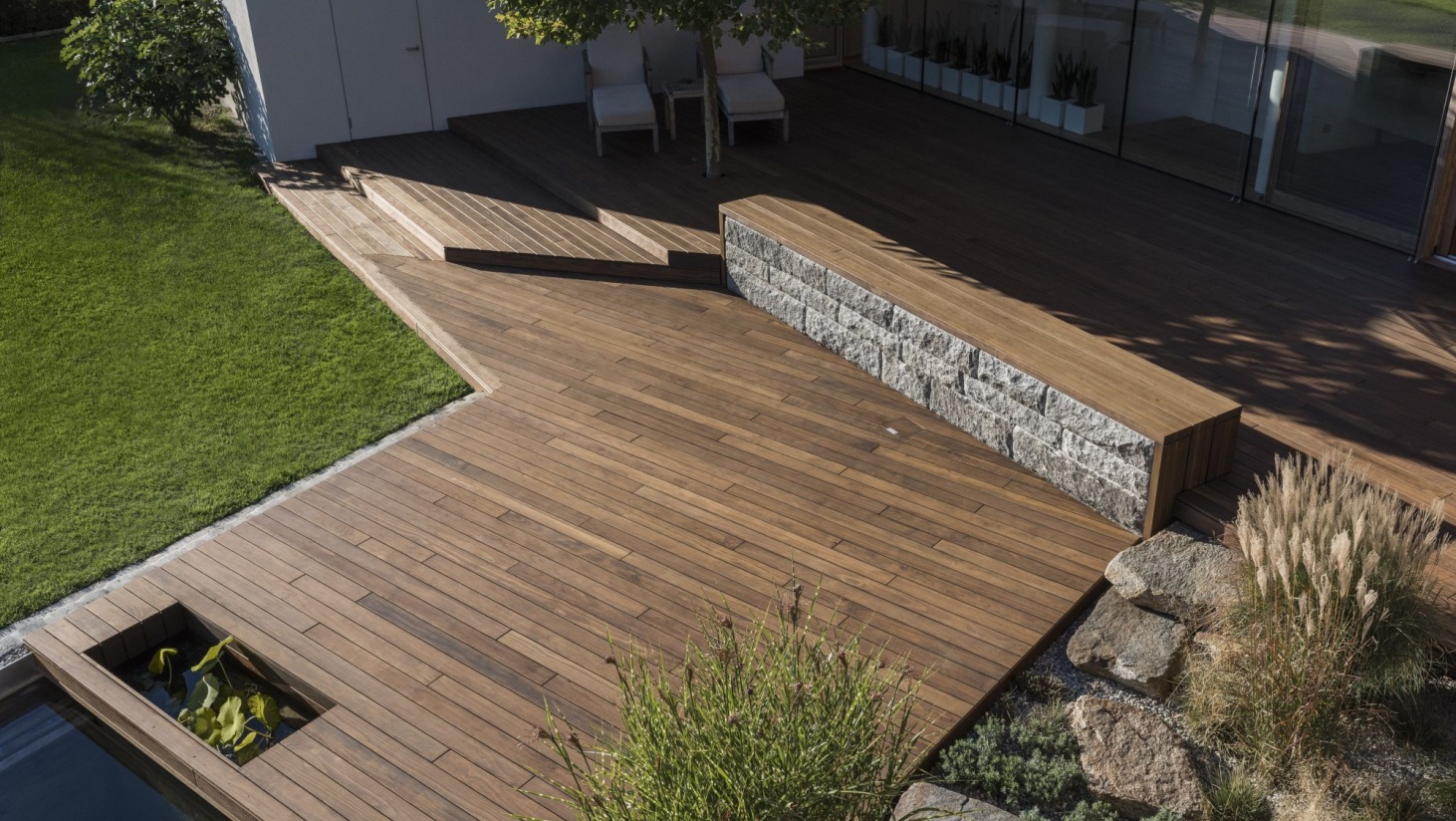 Modified wood
Modified wood is an ideal choice for those who love the classic look of wood, but do not have the time to keep up a traditional wood deck. Modified wood is treated with heat or chemicals to greatly increase durability and longevity, while minimizing staining and resealing needs. It is smooth and comfortable to walk on, but still performs well in a range of climates. This substance can also function as wood siding for those who prefer a cohesive look between the exterior of the home and the deck.
Modified wood is free of the chemicals used in PT wood and is more long-lasting. The wood is gathered from sustainable sources and can be composed of recycled materials, similarly to composite decks—minus the plastic splinters and heat of composite.
A deck not only increases the value of your house, but also increases how much enjoyment you get from your home. It offers a place for loved ones to gather and a comfortable area for entertaining, summer barbecues and relaxation after a long day.
To make an environmentally sound decking choice, be sure to take into account responsible sourcing, shipping distance, your particular climate and the product's life cycle, as well as your aesthetic.
This article was originally published on Houzz on February 3, 2012, as "Cork Flooring 101: Warm Up to a Natural Wonder," and is presented here with permission. Read the original article.
Although cork floors have soared in popularity over the past decade or so, they've been kicking around for more than a century. Back in the early days, cork appeared mostly in commercial and public spaces, although residential use increased after Frank Lloyd Wright chose it for many of the homes he designed.
Its popularity hit a peak in the 1960s and '70s but waned until the 2000s, when its retro appeal and sustainable nature made it a design darling. Wondering whether to jump on the bandwagon? Read on for more about the pros, cons and special considerations.
Photo: RoehrSchmitt Architecture; original photo on Houzz.
The basics
Natural cork comes from the bark of cork trees, found mainly in southern Europe and northern Africa. Scraps of bark left over from punched-out bottle stoppers are ground, pressed and baked into sheets that are ready to convert into floor planks and tiles. Portugal is the epicenter of the cork industry and accounts for more than half the world's production.
What you'll love
If you've ever noticed how fast a wine cork pops back into shape when it's released from the bottle, you have a good idea of how springy and flexible cork is. Its shock-absorbent structure translates to comfort underfoot—a real boon in spots where you spend long periods standing, such as in a kitchen or home gym. (That also means dropped glassware or china has less chance of shattering.) Plus, it holds warmth and muffles sound like a champ.
Cork also has serious green cred. The trees gradually regenerate their bark after it's harvested, and the harvesting process itself is strictly regulated in order to keep damage minimal. Because the trees can live between one and two centuries, cork is a long-term renewable resource. And if there's an allergy sufferer in your home, it's a dream material: It doesn't accrue dust and contains suberin, a natural substance that fends off mold, mildew, rot and pests.
Fans of cork adore its natural variations in tone and texture, which create a richness and depth that even the best manufacturers can't replicate. If you'd rather go bold, cork can be dyed or stained any shade that suits your fancy.
Photo: Case Design/Remodeling Inc; original photo on Houzz.
What to consider
Although cork is durable, be prepared to put in some maintenance. Crumbs, dirt and other detritus can scar its surface over time, so don't go more than a week without sweeping or vacuuming. Cork also needs to be resealed with protective coats of polyurethane every few years. Alternatively, you can seal it with wax, which is less likely to scratch, but must be stripped and reapplied more frequently. Some cork flooring comes prefinished, although it still will need periodic doctoring to keep it in shape.
Cork can bounce back from small nicks, but major dings—for example, sliding a table across the floor and taking a chunk of cork with it—are tougher to fix. Furniture eventually will leave permanent dents unless you place it on protective coasters to offset the pressure. As with carpeting, sunlight will fade it over time.
Also, cork doesn't always work well in damp areas. Although its natural waxiness repels moisture, standing water can permeate the joints and cause damage. If you really want cork in a bathroom, basement or laundry area, it's worth consulting with a pro about how to ward off water leakage and infiltration.
Photo: Reaume Construction & Design, original photo on Houzz.
Installation
Most cork flooring comes in one of two forms: planks or tiles. Planks can either be solid cork or engineered laminate-style (cork veneer with a fiberboard core). They're available in glue-down or "floating" applications—the latter locks together at the edges and sits right on top of any smooth surface, which makes it especially DIY-friendly. Avoid engineered planks in moisture-prone areas; they're likely to warp.
Tiles, made from solid cork, generally are glued to a subfloor. Installation isn't difficult, but it can take a fair amount of prep work to get the underlying surface in shape.
If you're opposed to the look of seams, or you want custom-cut shapes and designs, cork is also sold in sheets. However, installation gets much trickier, so you may need the help of a pro.
What you'll pay
Cork isn't inexpensive, exactly, but it's manageable on a budget. The price tag falls roughly between $2 and $12 per square foot, uninstalled (professional installation generally adds $3-5 per square foot to the total). Don't skimp on quality—cheap, lower-density cork flooring won't hold up in the long run.
Photo: Globus Cork; original photo on Houzz.
Resources
For more information about cork flooring and where to buy it, visit the World Floor Covering Association or the Portugese Cork Association.
Related articles
Communities that implement environmentally friendly practices to meet the needs of their residents are commonly known as green communities. These communities work to protect future generations from land, air and water pollution while reducing their carbon footprint. Major components include creating livable and walkable neighborhoods with multiple transit options, green spaces and sustainable infrastructure elements.
Enacting sustainability practices into your community is easier than you may think, and the benefits for both this generation and the next make the endeavor worthwhile.
What a green community can do for your family
Why should you be the voice for a green community? Residents can benefit from the energy-efficient methods to save money on their utility bills, specifically electric and gas. This can include using solar panels to power homes to avoid burning fossil fuels.
In your own home, choose energy-efficient machines, such as those certified by Energy Star, when shopping for major appliances, and consider investing in solar panels. The initial investment may be higher, but your family will save money annually in energy costs. Combine this tactic with insulation made from sustainable or recyclable materials, and your energy consumption and costs may lower even more. As more homes save energy, it lowers the carbon footprint of the whole community.
Green communities rely on biodegradable and recyclable materials for buildings, playgrounds and insulation. They incorporate compost for fertilizer and community gardens to feed residents. By planting trees, vegetables and flowers, the community benefits from an oxygen-rich atmosphere and pesticide-free food. Children can learn gardening skills and the importance of contributing scraps into a communal compost heap.
Also, communities choose to use vendors and manufacturers who practice sustainability to reduce greenhouse gas emissions and other chemicals during the manufacturing process. This is important for specific structures, such as playgrounds, to ensure safety in the neighborhood.
How you can get involved in the community
Your community can aspire to become a green community by seeking LEED certification. LEED for Neighborhood Development (LEED ND) can assist you in marketing and funding a green project to financiers, public officials and others. You can also apply for LEED certification if your project is close to completion or was finished in the last three years.
The EPA provides a guide to homeowners, builders, neighborhood groups, utility companies and organizations to assist in green infrastructure planning. Published in 2014, the guide suggests steps you can take including organizing stakeholders, developing a community vision and establishing goals.
Get further involved in your community by volunteering to create and maintain a community garden and compost heap. The scraps will benefit the garden as fertilizer, and your family won't have to worry about chemicals in the produce.
Whether you are a homeowner or a contractor, you can use these green tactics to improve and grow your community for generations to come.
We all know that clutter isn't a good thing. We've read articles about how a cluttered space can affect our moods or make allergies worse. As if that weren't incentive enough to get rid of all the extra stuff, there's another great reason: Clutter is bad for the environment.
Consume less, fill less space
Often, discussions about climate change and "going green" center on the concept of your carbon footprint, or the overall impact that your daily activities have on the environment. The more fossil fuels you use, the higher your carbon footprint. And it's not just our cars that use fuels, either. Fossil fuels are used to create electricity to power appliances, as well as create the items we use every day—and the items that we don't actually use, the ones that form clutter.
It's not only the manufacturing of items that affects your carbon footprint, either. When your home is filled with clutter, it can actually be less energy-efficient. When furniture, boxes and other items block vents or windows, you may consume more energy, as your heating and cooling systems will have to work harder. Not to mention, when your windows and doors are blocked by "stuff," you're less likely to keep them maintained, meaning that you could be letting cold or warm air out and increasing energy usage.
We all have a responsibility to work together to reduce harmful greenhouse gases and protect the Earth, and a good place to start is by clearing out your clutter. Fortunately, it's easy to do, and you'll have a healthier home in the process.
Reduce, reuse, recycle
As you clear out the clutter, your first instinct might be to throw away things that you don't need, but before you do, consider whether you could recycle or donate them instead. Old electronics, for example, should not be thrown away because they can leech harmful chemicals into the soil, so it all should be donated or delivered to an electronics recycling center, which will appropriately dispose of the items.
Clothing, toys and household items are obvious candidates for donation, but you can also donate larger items such as boats and cars. In fact, older vehicles can be harmful to the environment in many ways, so donating them to be properly disposed of or restored reduces your footprint in several ways. If you have older equipment such as lawn mowers or snow blowers taking up space in your garage, look for programs that will allow you to trade them in for newer, more efficient models.
Recycling your clutter will also reduce your footprint. You might be surprised at what your local recycling center will accept. Paper, metal, glass and cardboard can all be recycled. At the same time, commit to reducing your consumption of these items. Look for products with less packaging, buy in bulk or bring your own reusable containers to limit the resources you use and the clutter that you bring into your home.
Keeping your home clutter-free requires thoughtfully considering your purchases and thinking about what you need. Whenever possible, borrow items that you will only use once, and look for local, sustainable products. Not only will you have a cleaner, more organized home, but the Earth will thank you.
A new study from The University of Texas at Austin and USGBC found that new homes in the Austin-Round Rock Metropolitan Statistical Area (Austin-Round Rock MSA) built to meet green building standards such as LEED are worth an average of $25,000 more in resale value than conventional homes.
According to the study, homes built to LEED standards between 2008 and 2016 showed an 8 percent boost in value, while homes built to a wider range of green standards saw only a 6 percent increase in value. In the Austin-Round Rock single-family home market, a 6 to 8 percent "green premium" can be a major gain for those selling their homes, as well as developers and real estate agents.
Based on an analysis of more than 230,000 homes in the area, it was determined that the 3,800 green-certified homes (LEED and other green rating systems) delivered the extra 6 to 8 percent resale value.
The LEED Homes rating system was created in 2008 as a way for single-family homes and multi-family buildings to achieve LEED certification. Nationwide, the residential green construction market is expected to grow from $55 million in 2015 to $100.4 million in 2018, representing a year-over-year growth of 24.5 percent. Currently, there are more than 6,890 homes certified or pursuing LEED certification in Texas alone.
As a homeowner, you take pride in your lawn. A bright green, luscious lawn is a badge of honor: It shows that you not only care about the look and feel of your surroundings, but you also make sure that important outdoor tasks get done. Mowing the lawn to the right height, watering it properly, raking away leaves and debris—that takes time and effort.
Another reason to gloat about your verdant lawn: Natural grass helps the environment in many ways. Here are a few of the biggest effects a healthy lawn has on its surroundings:
1) It produces clean air.
Like most plants, grass breathes in carbon dioxide and releases oxygen, detoxifying the air and making it easier for humans to breathe. Even a small amount of grass can have a significant impact on the quality of air: A 50x50-foot lawn produces enough oxygen to keep a family of four breathing clean.
2) It reduces dust pollution.
Another major contributor to air pollution, dust is limited and maintained by areas of turf. Grass traps dust in the soil, preventing wind, humans and other creatures from kicking particles into the air. Plus, grass tends to attract airborne dust and smoke, pulling it out of the air as if by magnetism.
3) It moderates ground temperature.
Gravel will reflect the sun's light and heat, making a gravel-filled space unbearable hot. Conversely, lawns absorb the sun's rays to use as energy, and in doing so, they can produce their own evaporative cooling mechanism, keeping their area temperate. Dry soil can get as hot as 102 degrees Fahrenheit, but grass tends to hover between 88 and 75 degrees, even on the hottest days, so it modifies the environment by controlling specific temperatures.
4) It filters groundwater.
Turf's final major environmental impact occurs below the surface. As water seeps into the ground through grassy areas, the leaves and roots of grass filter out most contaminants. As a result, water passed through a lawn tends to be more than 10 times less acidic than other runoff, allowing clean water to nourish the environment and return to human homes.
How to keep your lawn healthy
Humans don't gain the benefits of grass if they let their lawns go fallow. Turf requires some maintenance every season, so every homeowner should consider keeping a summer, fall, winter, and spring lawn maintenance schedule. Furthermore, you should care for your lawn in environmentally friendly ways, which means using organic fertilizers, chemical-free pesticides and even eco-friendly grass varieties.
What you can do:
Water deeply and infrequently. In most regions, grass doesn't need water every day. Instead, pay attention to your lawn and water only when you must.
Mow high. Tall grass might need mowing more often, but it tends to be stronger and healthier, too. Set your mower to about 2.5 inches.
Allow thatch to form. A lawn is an environment in itself, filled with safe bacteria and beneficial bugs. A lawn needs these critters to live in its thatch to be healthy.
Did you know that most of the furniture used in homes and offices can be recycled? Many people already recycle common household materials such as paper, plastic, cans or glass bottles, but there are numerous ways to recycle your old furniture as well. Millions of household items are sent to landfills every year, and recycling will help in bringing this number down.
Here is a rundown of several ways you can recycle old furniture, instead of just kicking it to the curb for the trash truck to pick up:
1. Donate the item.
If you don't need your old furniture, donate it to charity or give it to someone who needs it. There are several websites, such as Freecycle, that allow you to list unwanted items that people can collect from you if they are interested. You can also ask a store like Goodwill or Salvation Army to pick it up, or you can take it to their store location and drop it off.
2. Sell the item.
If you're planning to get rid of some other items, add your furniture to a garage sale or neighborhood yard sale event. You'll generate some cash while also ensuring the rocking chair or dresser you've outgrown has a new home. Just make sure they're still in usable condition. You can also sell your furniture on websites such as Craiglist.
3. Refinish or reupholster it.
Before you decide to get rid of it, consider refinishing your furniture to get a brand new look. Take the furniture to a professional restoration expert or go the DIY route. Use a little imagination and turn your old furniture into something new and amazing. Put on shiny new paint, or go the opposite route and get a vintage look by creating an artfully cracked or distressed look. For old couches and chairs, consider reupholstering the pieces with a fresh new fabric.
4. Repurpose it.
Some creative ways to repurpose your old furniture:
Use a ladder to hang towels or blankets.
Reinventing an old door as a headboard for your bed.
Repurpose a wooden packing crate as a side table to stack magazines.
Reuse old lockers as shoe storage.
Elevate your mattress with wood pallets.
Use old travel trunks as bedside tables, coffee tables, side tables or display pieces.
5. Recycle it.
You can recycle the material of the furniture itself. If it's made of wood, metal or some other recyclable material, you can take it straight to your nearest large recycling bin or community recycling facility.
Learn how to recycle old kitchen materials during renovation