This article was originally published on Houzz on November 21, 2017, as "How Tech Can Help You Understand Your Home's Air," and is presented here with permission. Read the original article.
Research has shown that the air inside our home can be more polluted than the air outside, according to the Environmental Protection Agency. Pollution takes a toll on our health, and because we spend a lot of our time—up to 90 percent—indoors, it's worth taking a look at the air quality in our homes. The source of these pollutants ranges from oil and gas to furniture and building materials.
Photo credit: Awair. Original photo on Houzz.
Why measure indoor air quality?
Pollution continues to be a large health risk today, says Christina Dean, technical service and applications manager at Brenntag North America, and the public is feeling the effects of pollution in one or more aspects of their lives.
"Working in an industry as carefully orchestrated as the chemical management and distribution one makes you really mindful of how important it is to minimize your exposure to potential contaminants and airborne particles," Dean says.
"Air pollution can cause skin dehydration, premature aging, sensitivity and a depletion of antioxidants," she says. "While we like to think that air pollution is an outside-the-home problem, the fact is that pollution and particulate matter can be tracked indoors too."
To address this issue, many consumers are turning to technology to monitor the air quality inside their homes.
Using modern technology to monitor pollutants
If you're interested in the pollutant levels inside your home, technology can help. Whether you want a basic device that displays your indoor air quality in easy-to-read numbers, or a more complex system that provides graphic charts and historical comparisons, there's something for everyone on the market.
In the emerging market of home indoor air quality monitors, competition between brands and devices pushes the companies to improve their products, says Indoor Air Quality Association President John Lapotaire. The improvements can be seen in smaller monitors that work better in the home, and in the reliability of the monitors themselves.
"The homeowner equipped with any one of these monitors can have a good idea of the quality of their indoor air and be notified if there are any changes within their indoor environment without the need of a professional," he says. "For many, that ability is a game-changer and well worth the investment."
This is possible because of huge strides made in the consumer-grade indoor air-quality industry, Lapotaire says. That being said, a professional-grade device will be more reliable and comprehensive.
5 indoor air-quality monitoring devices for consumers
1. Awair uses built-in sensors that indicate and track toxin levels within indoor air. It then displays this information on the unit itself or transmits it through the internet, so the information can be ready from nearly any smartphone or computer that can access the internet.
It works by tracking five facets of air quality: humidity, temperature, dust, carbon dioxide (CO2) and chemicals.
Photo credit Awair. Original photo on Houzz.
The results are easy to view on the built-in display (shown here) or via the Awair app, which was developed in tandem with professionals from the Mayo Clinic to offer proven strategies for improving the quality of your indoor air.
Awair also designed its display unit with a wood frame to help it blend into your home's design.
2. Sprimo is a personal air monitor that has built-in sensors to determine toxicity levels in the air around you.
It transmits this information to an integrated smartphone app that uses multiple methods, including colors and numbers, to give you a visual confirmation of the toxin levels in your home or office.
Photo credit: Sprimo. Original photo on Houzz.
Touted as the world's smallest air monitor, the Sprimo device is tinier than the average house key, but it packs a powerful punch.
Not only does it monitor indoor air for pollen, dust, smoke and other toxins, but it can pick up on odor from paint, outdoor air pollution, chemical cleaners, garbage, pet waste and even your dirty clothes, and display their toxicity levels in a brightly colored, easy-to-read graphic.
Sprimo is also easy to use: Plug the device into your compatible smartphone, and you can begin monitoring your indoor air quality immediately.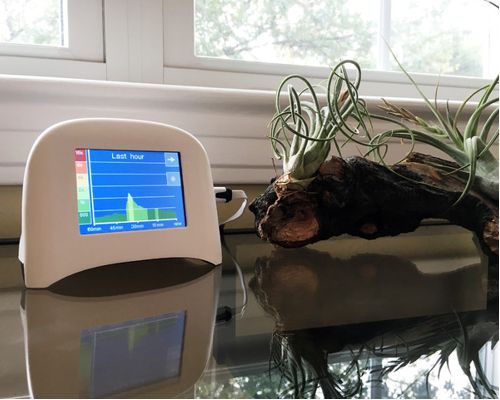 Photo credit: Speck. Original photo on Houzz.
3. Speck uses integrated sensors that detect fine particulate matter within the air around you.
This information is displayed on a large screen on the device itself, but it can also be viewed remotely via the app.
Though all of the products on this list are easy to set up and use, Speck is one of the simplest. Just plug the device into a power source, and the unit begins monitoring—and reporting—your air quality.
Users can see the information directly on the device, or via the internet and Speck's free software package. The built-in Wi-Fi functionality even lets you track data from anywhere with a laptop computer or smartphone.
Photo credit: uHoo. Original photo on Houzz.
4. uHoo detects toxins through a series of advanced sensors that are built into its cylindrical design. Separate sensors exist for chemicals, dust and temperature.
Whereas most of these devices only monitor a few different toxins, uHoo tracks nine: temperature, humidity, PM2.5, volatile organic compounds, carbon dioxide, carbon monoxide, nitrogen dioxide, ozone and air pressure.
Not only does the device let you view this information as it collects it in real time, but uHoo also provides automated reports when your indoor air quality reaches dangerous or hazardous levels.
It also keeps track of historical data, so you can compare levels in different rooms of your house during different seasons or after you've made home improvements.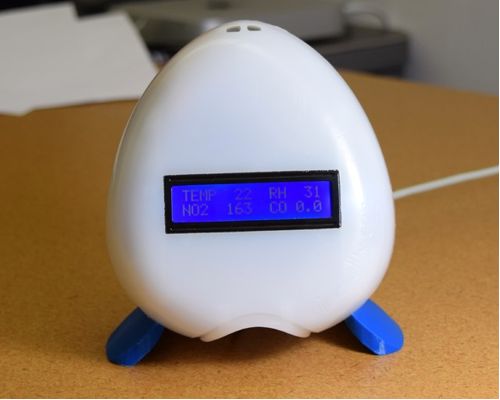 Photo credit: The Egg. Original photo on Houzz.
5. The Egg has built-in sensors that provide real-time readings and are automatically uploaded to the internet.
Pioneered by the development team at Wicked Device, the Egg also features a smartphone app and a dedicated, web-based dashboard to monitor your levels and compare them with others.
Integrated Wi-Fi functionality lets you upload data for historical tracking and long-term analysis.
Apart from its sleek design, the Egg monitors your air quality for six different pollutants: carbon monoxide, volatile organic compounds, CO2, sulfur dioxide, fine particulates and nitrogen dioxide.
Next steps
You can also use the resources provided on the Indoor Air Quality Assocation website to further explore indoor air quality issues, or find a professional who can help you with any air quality issues you're experiencing.
Related links
This article was originally published on Houzz on October 8, 2014, and is presented here with permission. Read the original article.
Natural insulation materials, like wood fiber, expanded cork and sheep's wool, tend to be more expensive than their more commonly used counterparts, such as fiberglass, polystyrene and rock wool. But they have a couple of advantages over synthetic materials and mineral wools that may outweigh the higher cost. Here's what to consider when it comes to your insulation choice.
Photo credit: Mariana Pickering (Emu Building Science); original photo on Houzz.
First of all, natural insulation materials, like cork oak (Quercus suber), pictured here, tend to have low toxicity levels and are theoretically better for the environment and your health. I say "theoretically" because, as with all products, quality and purity vary, and it's important to do your research and know what you're getting. Especially in today's age of greenwashing, you need to be attentive to manufacturers' claims of a product's being ecofriendly. Some natural insulation materials may contain glues or binders that emit toxic chemicals, just like standard insulation materials, making it not very cost effective to spend the extra money to go natural.
With any material claimed to be ecofriendly, always ask these questions:
How do you source the material?
Were any glues or binders used?
How is it treated for fire and insect resistance?
Is your product guaranteed by any third-party certification?
Second, natural materials have a characteristic that is beneficial for increased comfort in the summer or in a heat wave. They have a higher thermal capacity than synthetic materials and mineral wools.
Now let's run through the basics of some of the most common natural and recycled insulation materials, to get a better understanding of them.
Photo credit: Sheep's Wool Insulation; original photo on Houzz.
Sheep's wool. Depending on where you are located, you may be able to find wool batts manufactured from textile-industry wool waste, wool sheared directly from sheep or wool chemically removed from organic lambs slaughtered for meat. Some ambitious DIYers purchase, clean and treat sheep's wool themselves, which may actually be a cheaper option if you happen to have access to a lot of sheep.
The ability of wool to absorb moisture makes it particularly interesting for some applications, but repeated absorption and release may cause the borate—which makes it fire- and insect-resistant—to leach out.
Sheep's wool is a great insulator. It's very efficient and naturally able to handle condensation. It doesn't clump or settle over time, and it actually can have an air filtering effect, because it has the ability to absorb some airborne chemicals, such as formaldehyde.
Photo credit: Caragreen; original photo on Houzz.
Recycled textiles. Postindustrial recycled blue jeans and other forms of fabric from the textile industry are finding new purpose as cotton insulation batts. Less common in Europe but gaining popularity in the U.S., these batts are comparable to fiberglass in performance and format but contain no formaldehyde.
The recycled content is usually around 85 percent, with the rest being polyester. The installation is a little more difficult, in that it's harder to cut the batts accurately, but there are no health risks, the material doesn't make you itch when you touch it, and a respirator isn't necessary.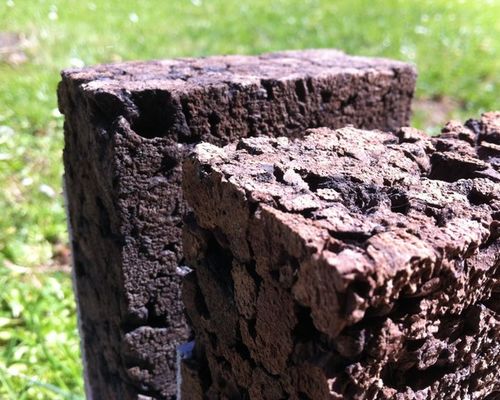 Photo credit: Mariana Pickering (Emu Building Science); original photo on Houzz.
Expanded cork. Cork is perhaps the most efficient natural insulator and one of the most durable natural-fiber insulation options available, but often also the most expensive.
There are no synthetic glues used to bind the cork granules into boards. Instead, the granules are heated and the suberin, a natural substance of the material itself, binds it together. Cork can be divided into boards of varying thicknesses.
As always, there are advantages and disadvantages to every material. Cork, however, has good thermal performance for both cold and hot temperatures.
While cork has been used for quite a while in Europe as a rigid insulation material, the American market will need some time to learn how to work with this relatively new material. As with many rigid insulation materials, it can be difficult to avoid gaps at the joint of the boards, so you will want to overlap the material and pay special attention to tricky spots, like around windows.
Photo credit: Mariana Pickering (Emu Building Science); original photo on Houzz.
Wood and hemp fiber. Wood fiber (seen here on the left; hemp fiber is on the right) is commonly used in Europe, but arrived on the American market (as far as I can tell) only a couple of years ago. It often comes in the formats of flexible batts or rigid boards, but can also be found as loose fill. Boards that are made with the wet process use heat and pressure to naturally bind the material into boards, but may include additives to protect against moisture. The dry process, on the other hand, may include the use of a synthetic binder to form the boards.
One of the major risks with this material is its high flammability, and if not installed correctly, it can pose a danger. That means you would need to be all the more vigilant about finding an installer who is willing to try it out and perhaps be open to the idea of having it inspected for peace of mind.
The advantage of wood-fiber panels is their high permeability, similar to mineral wools, allowing water vapor to pass through easily. For people particularly concerned about their wall assembly's not holding any moisture, this could be an interesting solution.
Hemp fiber has similar properties but is a more rapidly renewable resource and has a lower density (performing not quite as well as wood fiber in summer conditions).
Photo credit: USA Insulation of Cleveland; original photo on Houzz.
Cellulose. Cellulose has been in use as a loose-fill insulation material in some regions for a few decades now. It is basically wood fiber farther down the food chain, after it has become sawdust or discarded paper.
Depending on the manufacturer, this material can be composed of recycled newspaper or sawmill scraps, but there are also manufacturers who use virgin wood, which is unfortunate, because they are downgrading a valuable material to a job that could easily be fulfilled by wood that has already served other purposes. Even the recycled-newspaper cellulose gives some people pause because of the ink content. In Europe, sawmill cellulose can cost up to 30 percent more than other kinds of cellulose based on these concerns.
Because it is blown into place, there are no binders or glues to worry about. (Note that I'm referring to dry blown-in cellulose here.) There are also damp-spray, netted and dense-packing methods. Some people report that it settles over time, but if it is properly blown in, settling is very limited or even nonexistent.
We often recommend that the installer's work be quality checked during the process by a third party with an infrared camera. This ensures quality of installation for an relatively low hourly cost, possibly avoiding the future cost of fixing or redoing the job.
Earthen and straw bale construction. Other natural wall assemblies include straw bale construction and various types of earthen construction.
Do your research. With all of these materials, your installer should be aware of how to properly seal the insulation from fire hazards, like a chimney and light casings. None of these materials acts as an air barrier, and proper attention to air leakages should be addressed before you even worry about insulation.
Related articles
Formaldehyde is an organic compound that binds tightly with other molecules, making it an ideal bonding agent. Therefore, formaldehyde resins are often used as adhesives in wood products, from flooring to cabinets to pieces of furniture. You can also find it in some fabric and paper products, insulation, carpeting, coatings, finishes and other household products.
However, formaldehyde off-gassing can cause health problems. According to the American Cancer Society, breathing formaldehyde emissions can cause shortness of breath, chest pain and burning sensation in the eyes, nose and throat. The National Toxicology Program classifies formaldehyde as a "known human carcinogen."
Mobile and manufactured homes (such as those provided after natural disasters) can contain particularly high levels of formaldehyde because they often contain a larger percentage of pressed wood materials, but many homes have some exposure to formaldehyde through their building materials and decorative items. Circulating air through your home through regular indoor ventilation helps, but opening windows can be even more effective, especially for the few days after an addition to your home, such as new furniture.
What can you do to avoid overexposure to formaldehyde in your home? You can take steps to reduce your exposure by avoiding pressed-wood products, unless you determine they have low formaldehyde content; safely sealing cabinets or furniture; washing new sheets and clothes before use; opening windows when painting or using certain kinds of cleaners or nail polish; and refraining from smoking.
Look for products labeled "ultra-low emitting formaldehyde" (ULEF) or "no added formaldehyde" (NAF). A more common label you will find while shopping is "no-VOC"/"low-VOC." Volatile organic compounds (VOCs) are present in several household substances, and formaldehyde is one of the most common.
The key to creating a truly resilient and sustainable stormwater management plan for your home landscape is to understand your site. Look at how water works in your landscape and how it fits into the big picture. Identify existing issues and opportunities for improvement, and respond to your site's stormwater needs in a way that's best for your climate. Here's how to get started.
Photo: Cultivart Landscape Design; original photo on Houzz.
See the big picture
It's helpful to look at your landscape as a whole when analyzing how water moves through it. Watch your yard during a heavy rain and take notes on where and how water moves and puddles. How do different surfaces and areas of the garden interact? Seeing your landscape during a rainstorm will help you think about the bigger picture for its stormwater design.
In the yard here, water from the roof runs through the downspout to a rock swale that carries it through the garden. The decking and planted areas harmonize beautifully with the rock swale as it flows through the space.
Photo: Root Design Company.com; original photo on Houzz.
Know your climate. Know your region's annual rainfall and when it usually occurs during the year—when is there too much or too little water, and how does that relate to your garden? For example, arid climates frequently have extended periods of drought but can also have heavy rainstorms during concentrated periods of time. Water storage and harvesting are great ways to respond to this condition. Other climates, like the Pacific Northwest, receive regular rain over the course of the year, and residents must create strategies for moving and infiltrating water from rain showers year-round. Understanding your climate's rain will help you plan your stormwater management strategies.
Photo: Lisa Wilcox Deyo Landscape Architecture; original photo on Houzz.
Know your soil. Soil has the amazing capacity to cleanse water as the water filters through it. This is one of the primary reasons infiltration techniques are so important. Allowing dirty runoff from a driveway to percolate through the soil can clean the water before returning it to the groundwater.
However, your soil needs to be able to effectively absorb stormwater to clean it. If water already can easily infiltrate your soil, you'll have less work to do, because you can tap into your soil's inherent properties to manage runoff. If you have poor infiltration due to soil compaction or a high clay content, you'll have to do more work to manage water effectively.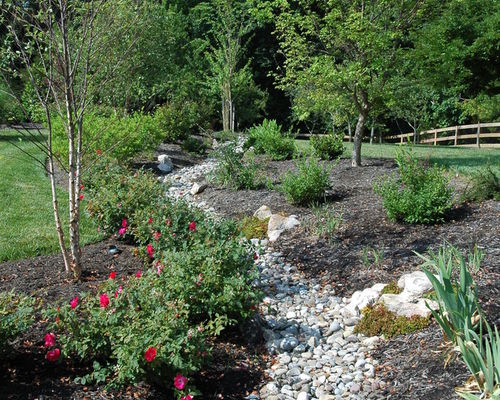 Photo: H&G Landscape Architects; original photo on Houzz.
Identify issues and opportunities
Most homeowners don't know they have a water problem until their basement floods or a drought kills all of their garden plants. Before this happens, walk through your site and look for clues about how the water is behaving.
Here is a list of questions to ask to help you identify challenges and opportunities for improved stormwater management in your landscape.
Which surfaces are contributing to runoff? Calculate the square footage of the roof, driveway, patio, walkways and other nonpermeable surfaces. See runoff as an opportunity for integrating water movement into your landscape design. Swales and rain gardens can be beautiful features.
Where is water pooling or sitting for prolonged periods of time? It's normal for water to pool in spots during a heavy rain, but it should drain away within 24 hours or less. Depending on the situation, areas with pooling water are an opportunity for regrading. Grading reshapes the ground to manage water and help tie together areas of the garden.
Where are soils eroding? Soil erosion is a major concern and will only accelerate over time if it is not stopped. Even minor erosion will get worse with time. Areas with soil erosion are great places to plant ground covers and vines that stabilize soil.
Are there drought-prone areas? Check your plants on a warm, sunny afternoon for drooping leaves or sunburned foliage. Does the plant look wilted? Are the leaves being burned from sun exposure? These are signs that your current plants are drying out and will require too much irrigation to survive. The opportunity here is to plant species that need hot, full sun to flower. Depending on your climate, they could be succulents or native perennials.
Photo: Christopher Megowan Design; original photo on Houzz.
Respond in the way that's best for your landscape
Store, slow, spread and sink runoff. Storing water is a great way to reduce irrigation demand and intercept runoff. In the space here, a roof downspout directs roof water to a rain barrel for storage.
Slowing down and spreading runoff with swales and rain gardens helps to prevent flash flooding downstream. Green roofs and permeable paving are other great methods for intercepting stormwater at the source.
Allowing water to infiltrate the soil—also called sinking the water—whenever possible is the best thing you can do for your landscape and the environment.
Move and infiltrate pooling water. Water that pools or ponds for more than 24 hours after a storm can be a sign of poor soil infiltration and/or too much runoff with nowhere to go. If your soil cannot efficiently absorb the stormwater where it pools, you can move the water to a point in the landscape with a rock swale, runnel or rain chain where the soil can absorb it. If your soil cannot effectively manage water on its own, or if you don't have space to carve a swale through the landscape, you can also combine subdrainage with swales and stormwater planters to effectively manage water.
Photo: Feldman Architecture Inc; original photo on Houzz.
Stop soil erosion. You have a soil erosion problem if you find washed-out areas of barren soil or see that soil has been swept away from foundations or tree roots. It means water is coursing through that part of your landscape too quickly, which is evidenced by rivulets and cuts in the soil from fast-moving water.
There are many solutions to this issue. Any of the sustainable stormwater techniques mentioned here can reduce the overall quantity and speed of water on the site. Additionally, look at how water meets the ground from your roof downspouts and be sure to slow, spread and sink the runoff at those points. Additionally, be sure to implement erosion control methods on steep slopes and areas with erosion-prone soils.
Use drought-tolerant plants for dry areas. There are hot, sunny microclimates in the home landscape that can dry out significantly, even in climates with plenty of rain. Instead of wasting potable water on keeping those plants' roots moist, use drought-tolerant native plants or other suitable drought-tolerant plants. Plants that thrive in hot sun will handle drought conditions and require far less irrigation than water-hungry alternatives.
Plant shade trees as another strategy for cooling down overexposed areas. Trees benefit the home landscape by reducing the overall ambient temperatures in a city. With cities being warmer than nonurban areas—called the urban heat island effect—trees can play an important role in regulating temperatures around the home. Increased shade from trees also helps the garden retain moisture, which means less irrigation in the long run.
Related articles
Washington, D.C. has taken a few steps over the past year to catch up with the composting craze. The District now offers places to drop off your at-home compost, and also has some services to make it even easier.
"In total, the District generates somewhere between 166,000 and 238,000 tons of organic waste annually."
My husband and I produce a lot of waste. We use way too many paper towels, we've always got veggie scraps and I'm always throwing out tea bags. I thought, "There's got to be a way that we can produce less waste and benefit our local community."
We live in a pretty small, 700-square-foot condo, and the thought of trying to compost and recycle only screams "more space" to me. I decided to sign up for Compost Cab, a weekly service that provides you with the bin and removes your compostables on an assigned day each week. It couldn't be easier to compost at home.
Compost Cab takes away your compostables and gives them to local urban farms, gardens, nonprofits and government agencies to build healthier, more sustainable food systems, starting with the soil. Not only are my husband and I reducing our household waste, but we're also helping produce soil for our local community.
You can also receive some of this soil and use it in a home garden or yard, if you have one. Another small perk of the Compost Cab bin is that it is rodent-proof (hello, D.C. rat population)—a bonus for anyone worried about leaving food scraps on their porch for a period of time.
What if you're not really into paying someone to come pick up your compostables? That's also OK! The District has introduced a Food Waste Drop-Off Program. All you have to do is compost at home, and then take your scraps to a designated drop-off point each weekend. Compost Cab says that for every four families that compost with Compost Cab, we keep a ton of organics (approx. 2,000 pounds of what most people still consider trash) out of landfills each year.
If you want to take it one step further, D.C. also offers a Community Compost Coop Network. Each cooperative can handle around 100 active composters, or about 1 ton of material a month. You'll learn a little more about community composting, as well as meet a network of other composters. Your responsibilities can include training others and actually processing the compostables.
The big question: what can you compost in D.C.'s programs? If it grows, it goes. That means fruits, vegetables, peels, seeds, coffee grounds, tea leaves, nuts, etc. No meat or dairy are accepted in the current program. Calling all environmental champions—do you want to be a part of D.C.'s composting efforts?
When it comes to houses, first impressions matter, as people quickly form opinions about a house based on a quick glance. Curb appeal is discussed among homeowners who are looking to sell their homes, but anyone who owns a house can benefit from making an effort to create a pleasant home exterior.
You can make improvements that will add curb appeal to your home while staying eco-conscious. To help you get pointed in the right direction, here are a few ideas:
1. Showcase trees.
It's estimated that trees can increase a home's value by more than 15 percent. Towering, beautiful trees instantly add charm to any house, so if your yard is looking sparse, consider planting some trees. Keep in mind it can take five to seven years for such plants to mature.
Trees not only add value to your home for aesthetic reasons, but they are incredibly beneficial to the environment. They absorb carbon monoxide, and in turn release healthy oxygen back into the air. They also provide homes for many of nature's creatures.
In addition, trees can also help you save on your energy bills. When planted in a manner that covers your home with shade, trees help lower the home's internal temperature. Likewise, if trees provide shade for your AC unit, it can help your air conditioner run more efficiently.
Landscaping in general is important when trying to add curb appeal, so take some time to manicure your lawn to appear lush and green.
2. Add window awnings.
Awnings add style to the outside of your home, as well as a practical, earth-friendly function. They keep sunlight out of your home and lower the indoor temperature, which allows you to use your AC less often and at warmer settings. You can install automated home window awnings that are powered by the sun, thereby expanding your green efforts.
3. Install solar-powered lights.
Patio and landscape lights are a great way to add some decor to your home's exterior, plus outdoor lighting allows for outside get-togethers, increases safety when being outdoors after dusk and contributes to an overall feeling of elegance.
Many variations of solar-powered outdoor lighting are available, so as long as you live in an area that gets regular sunshine, you'll be able to adorn your landscape with easily managed, eco-conscious illumination.
4. Polish up with paint.
If your home's paint is chipping away, it can make your home look a bit neglected. Naturally, polishing up any areas that need it will help enhance the appearance of your home, but in order to stay with your green approach, remember that not all paints are created equal. Look for products that are low- or zero-VOC when repainting.
5. Keep your roof in good condition.
One of the most important things home buyers and appraisers look for when assessing value is the condition of the roof, and shingles that are unkempt, missing or tearing off will hinder your curb appeal efforts. Whether you're simply patching up a few areas or restoring your whole roof, there are plenty of green options you can consider. Here are a few of them:
Some shingles are made out of recycled material, such as plastic or rubber.
Metal rooftops reflect heat and are often made out of recycled material, and even if they are not, they can be recycled after their use is complete.
Cool roofs are made out of material that is designed to reflect sunlight, thereby lowering the internal heat of your home.
Clay tiles are recyclable and provide insulation, helping to keep your home cool in warm months and warm in cooler months.
As you can see, there are many ways to enhance your home's appearance, make a positive impression on prospective buyers and passersby and stick to your green values.
Do you want to protect your home from pest infestations, but are not sure how to go about it in a way that's nontoxic for your home and family? Proactive pest control is the key to staying healthy and keeping your home safe from unwanted creepy-crawlies. Fortunately, home pest control can be made both harmless and hassle-free with these seven safe, natural and effective remedies:
1. Citrus scent
Citrus peels have a light, revitalizing scent that makes them a great option to keep pests like ants, mosquitoes and spiders away. All you need to do is to rub the citrus peels on all the problem areas like doors, windows and shelves. Also, these citrus peels make a brilliant polish for wooden furniture.
2. White vinegar solution
White vinegar is an excellent solution to get rid of ants that keep coming back even with regular cleaning. Ants leave a trail of pheromones that work to alert other ants, so using white vinegar will destroy the chemical trails and eliminate the source. Once the scent is eliminated, it will keep other ants from following the chemical source, and your home will remain ant-free.
3. Cucumber
Ants have a strong aversion to cucumber, so if you place a slice of cucumber near all the entryways, it will keep ants away. Cucumber is also very effective in keeping silverfish, wasps, mites and moths at bay. However, remember to replace cucumber peels and slices frequently, as rotting food can also be a source of attraction for other pests.
4. Cinnamon
Cinnamon powder can be sprinkled outside the house to keep bugs and pests from entering your home. You can also use cinnamon powder on kitchen countertops and other surfaces to eliminate the scent trails left behind by certain pests.
5. Peppermint oil
Spiders cannot stand the minty scent of peppermint oil, so creating a solution using peppermint oil and water that you can spray around the areas frequented by spiders will help you get rid of them. This method is completely safe, even if you have small children at home.
6. Eucalyptus oil
Eucalyptus oil is a perfect solution for homes that are plagued by flies. Simply apply some oil to a cloth and leave it in the affected area, and soon all the flies will vanish.
7. Herbs
Herbs like lemongrass, citronella and mint are easy to grow and can be planted in the backyard. These herbs have a strong scent that works as an effective repellent for pests, so if you have garden boxes or spare containers, put them to good use.
Commit to seasonal checks and periodic cleaning to prevent pests.The best way to keep your home pest-free is to prevent an invasion before it starts, so seasonal checks are very important to identify susceptible areas and seal them:
All the openings, cracks and crevices in doors and windows should be caulked and sealed to prevent the entry of unwanted pests.
Trash containers should always be tightly secured and far from the home.
The kitchen floor, countertops and cabinets require diligent cleaning.
The foundation of the house is a breeding ground for pests, so make sure that mulch piles, firewood stacks and grass clippings are stacked away from the house.
In addition, it can be helpful to have a professional pest control service provider inspect your home as a preventive measure, and treat it if necessary.
Green roofs add so much more than just an aesthetic effect to homes. Living roofs are eco-friendly in many ways, such as by managing storm water runoff, providing insulation and reducing the heat-island effect. Even better, small-scale green roofs are not very complicated to make and can easily be turned into a DIY project.
Which green roof to choose
Small-scale green roofs are perfect for placing under the main roof—think of the porch roof or garage roof, or the top of a shed. First, you need to choose whether your green roof will be extensive or intensive. An extensive green roof needs less maintenance, while an intensive roof with more layers requires more maintenance. The area where you want to install the green roof will help you decide, due to whether frequent maintenance would be possible or convenient.
It is best to get advice from a specialist if you have a roof that slopes over 10 degrees or under 2 degrees, as there might be further design strategies to take into account. Also, only roofs that are in good condition, without damage or leaks, should be considered for installing a green roof. The weight of a small green roof can be between 13 and 30 pounds per square foot before saturation, and whether the roof can hold the extra weight should be calculated as well.
Vegetated roofs consist of a few different layers. Whether the green roof is on a small home or a skyscraper, these layers are more or less the same:
Waterproof layer
All green roofs need an additional layer of waterproof material that is root-resistant. A single sheet, such as heavy-duty pond liner from a local store, is perfect for this layer. When applying, mark the outlets so that the area can be cut open in a later step.
Drainage layer
Drainage is essential for excess water to escape from the roof. Make sure the outlets are cut into the containment frame, which will allow water to flow into the gutter of the roof. It is crucial that the outlets stay clear at all times. By using pebbles around the outlet point, you can avoid vegetation establishing itself in the drainage system or around the edge of the roof.
You can also lay out moisture blanket or geotextile membranes (which are fungi- and bacteria-resistant) to help the plants keep water. Alternatively, a gravel or limestone chip layer can be spread on top of the waterproof layer to ensure drainage.
Substrate layer
The soil needed for a green roof should have a ratio of 70 percent inorganic material and 30 percent organic material. Low nutrients and lightweight substrates are perfect for a green roof.
Vegetation layer
The last layer is the vegetation itself. The types of plants that you will have will depend on the type of green roof you are installing (extensive or intensive). Seed mixtures can be bought specifically for green roofs. Green roof blankets can be rolled out, or plants can be directly planted into the soil. Whichever method you choose, keep in mind that you can tailor the planting to attract certain species of plants and wildlife.
Last, check the condition of your green roof at least a couple of times a year, and keep it chemical-free. Your home will soon be looking more attractive, even as you contribute to a healthier environment.
In 2012, the Department of Energy and its national laboratories created a resource for homeowners, buyers and renters to see a home's energy use in a simple way. Since then, over 68,000 homes in the U.S. have taken advantage of the Home Energy Score tool, which includes
A numeric score based on the home's envelope (foundation, roof, walls, insulation and windows) and heating, cooling and hot-water systems.
A total energy use estimate, as well as estimates by fuel type, assuming standard operating conditions and occupant behavior.
Recommendations for cost-effective improvements and associated annual cost savings estimates.
A "Score with Improvements" reflecting the home's expected score if cost-effective improvements are implemented.
The score is developed a one-to-10 scale, where a 10 represents the most efficient homes. It also comes with a detailed fact sheet of how the score was compiled and recommendations for how to make your home more efficient.
Beyond giving homeowners the information they need to make their home more energy-efficient and to save money, the Home Energy Score can also showcase the energy investments you've made in your home to make it more attractive to potential buyers in the future.
Assessments can be completed in less than an hour in most homes, and you can find local assessors on DOE's website.
Watch a video to learn more about the tool:
If you're thinking about making your home more energy-efficient, there are many good reasons to do it. In addition to reducing your carbon footprint and lowering your utility bills, completing eco-friendly renovations can even raise your home's value. Here are four green renovation ideas that could increase the value of your home.
1. Let the sunlight in.
The sun is a natural source of light, heat and energy. Take advantage of this resource by adding skylights, windows or solar panels to reduce both your carbon footprint and your utility bills. Increasing natural light can reduce your need for electricity during the day, while solar panels and even some skylights can convert energy from the sun into energy you can use to power your home.
Don't be deterred by the expense—you may be able to recoup most, if not all, of the costs. As Consumer Affairs notes, items such as solar-powered blinds can boost your home's energy performance by as much as 45 percent, and multiple studies have shown that potential buyers will pay more for energy-efficient homes. In addition, going solar could have tax benefits.
2. Replace old windows and doors.
New doors and windows can make your home more energy-efficient by creating a better seal to block out the outside weather, leading to lower heating and cooling costs and improved curb appeal. In addition, some purchases may be eligible for rebates and tax incentives. Replacing an old wooden front door with a new, stainless steel door can yield one of the highest rates of ROI of any home renovation project—as much as 102 percent of your investment. And Energy Star-rated windows can save you hundreds of dollars a year in heating and cooling costs.
3. Upgrade appliances.
Appliances contribute to an estimated 15 percent of your energy usage, according to the U.S. Department of Energy. You can reduce your energy consumption by upgrading to appliances that are more energy-efficient. Before upgrading, remember to look at kilowatt-hour usage: Compare your current stove, refrigerator and dishwasher to the newer options to ensure you're getting a more efficient model. Some utility companies offer rebates and discounts when you upgrade to energy-efficient models, so be sure to find out if you're eligible. Don't forget to recycle your old appliances.
4. Refresh and upcycle.
Fresh, updated interiors can greatly improve the value of your home. HGTV estimates that a kitchen remodel can yield more than a 100 percent return, while a remodeled bathroom could recoup nearly double its cost at resale. Keep your remodel green and economical by sourcing used or reclaimed materials. Built-in shelving made from reclaimed barn wood, kitchen islands made from repurposed antique furniture and upcycled hardwood flooring can reduce your carbon footprint and add character to your home. Look for materials such as recycled glass and stone for beautiful countertops, and give kitchen cabinets a fresh look with low-VOC paint.
Learn how to do a green kitchen remodel.
Learn your current home value with the Home Estimate tool from Owners.com.